THE 'SAVOIR VIVRE' IN THE AIR CONTINUES AS BRUSSELS AIRLINES GETS NEW MENUS IN BUSINESS CLASS

(Posted 08th December 2017)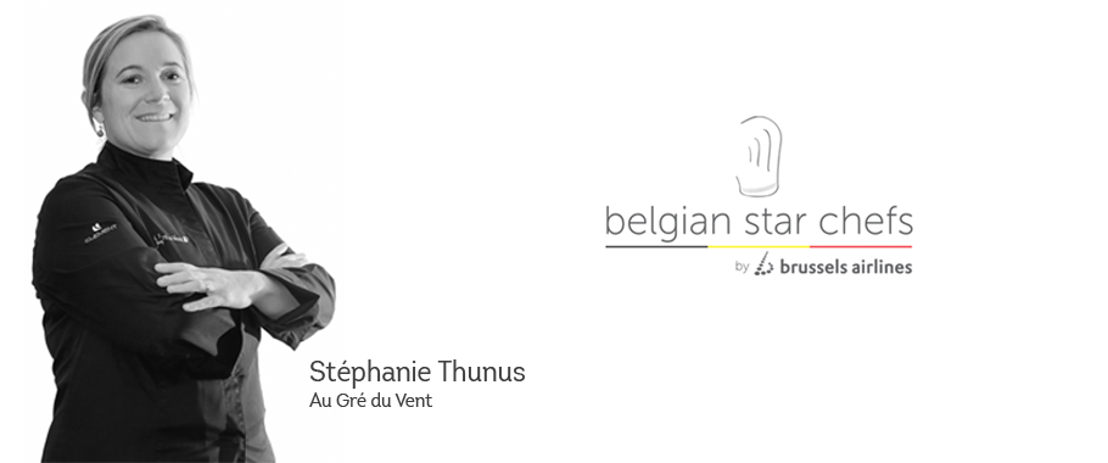 Flying with Brussels Airlines is as much a lifestyle statement as it is a choice for one of Europe's best reputed carriers and the launch of new menus for business class passengers by award winning lady chef Stephanie Thunus soundly reaffirms that.
Together with her husband, maître d'hôtel Sébastien Guchet, Stéphanie runs Au Gré du Vent since 2012 in her birth village Seneffe. Only one year after opening, the couple earned a first Michelin Star, which it has maintained until today, and Gault & Millau gives the restaurant a 16/20 rating in 2017. Brussels Airlines chose Stephanie as their next signature chef to create their menus for 2018, following a long tradition of having Belgium's Michelin ranked chefs come on board to enhance passengers culinary experience.
On the first menu in January 2018, Brussels Airlines passengers will find delicacies like quail mousse, veal check with salsify, tarragon and violet mustard and yellow Pollock with saffron sauce.
To complement chef Thunus' dishes, a special variety of beer from the region has been included in the menu, from Brasserie de la Haute Senne and Brussels Airlines also includes Belgian wines in its onboard wine offer. To finish their 4-course meal à la belge, passengers are offered a selection of beautiful Belgian cheeses by cheese affineurs Van Tricht.
Chef Thunus' menus will be served on board from January to December 2018 and this correspondent cannot wait to sample the menu on his flight to Brussels in January.
The collaborations with Belgian star chefs is only one of many ways Brussels Airlines markets itself as thé Belgian airline. The airline also serves Belgian chocolates and delicacies on board, its crew uniforms are designed by Belgian brands Xandres, Bellerose and Ambiorix and over the last three years Brussels Airlines has repainted four of its planes with special liveries dedicated to Belgian icons Tintin, Magritte, Red Devils and Tomorrowland.
In East Africa is Brussels Airlines THE airline of choice for direct flights to the European capital, serving Entebbe, Kigali and Bujumbura. From later in December will the airline in fact go from five flights a week to daily services between Brussels and Entebbe, with one of the services going on to Bujumbura while the remaining six flights will also land in Kigali.
https://atcnews.org/2017/09/18/breakingnews-as-brussels-airlines-announces-daily-flights-to-entebbe-come-december/
Brussels Airlines, member of Lufthansa Group and a Star Alliance member, is the Belgian airline that offers the widest choice of flights to and from the capital of Europe, Brussels Airport. The company has more than 3.500 employees and 51 aircraft operating some 300 flights daily, connecting the Capital of Europe to 90 premium European destinations, 24 African destinations, 3 North American destinations and Tel Aviv and Mumbai.
On long haul flights, operated with Airbus A330-200 and A330-300, the airline offers a Business Class with full flatbeds and state of the art inflight entertainment, an Economy Class with ergonomic seats and individual inflight entertainment on touchscreens, and an Economy Privilege option with generous leg space and more seat recline.
On its European routes Brussels Airlines offers the choice between Bizz&Class, Flex&Fast, Light&Relax and Check&Go.
In addition to its destinations in Africa, North America and India, Brussels Airlines and its intercontinental partners also offer long-haul codeshare flights to the United Arab Emirates, Japan and Thailand.
Brussels Airlines offers cargo capacity on all its flights, commercialized by the Cargo Department. The airline also handles the daily maintenance of its aircraft fleet.
Brussels Airlines was founded in 2002 and is 100% owned by Lufthansa