#ACCRA, #ABIDJAN AND #BERLIN TO WELCOME ALL LADIES FLIGHTS TODAY

(Posted 08th March 2018)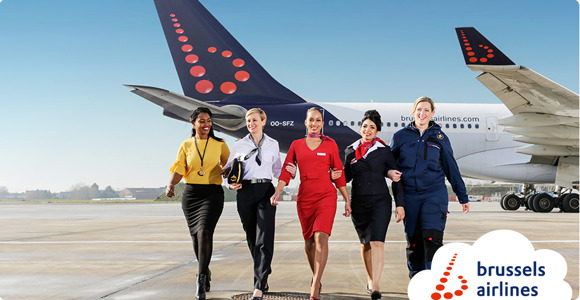 With the majority of its workforce being female, Brussels Airlines advocates equal opportunities for men and women in their work life. As a symbolic action on International Women's Day, Brussels Airlines operates all-women crew flights to Berlin, Accra and Abidjan.
Today, Brussels Airlines' flight SN2579 to Berlin will be led by Captain Sofie and First Officer Marie-Aude. Purser Liesbeth will take care of the service in the cabin together with cabin crew members Kaya and Gillie. All other Lufthansa Group airlines (Lufthansa, SWISS, Austrian and Eurowings) also operate all-women flights to Berlin from their respective home airport. With this symbolic flight, the airline wants to help strive for a more gender inclusive world.
With female co-workers on all levels and in every department, including HR, Marketing, Ground Operations, Aircraft Maintenance, Cabin Crew and support services, the majority of Brussels Airlines' workforce is female (51.6%). At 10%, the airline's percentage of female pilots is one of the highest in the aviation industry, where the global average is just over 3%. As from the first of April the airline will also have a female CEO. Christina Foerster will be the first ever woman to be heading a Lufthansa Group airline.
"At Brussels Airlines we find it important to contribute to IWD by organizing these symbolic actions because we firmly believe in gender equality. We understand that having a family and a career can be a balancing act and we strive to support all our colleagues, men and women, to ensure that each and every person is able to reach their full career potential, while maintaining a good work-life balance."

– Diane Cauwenberghs, HR Talent Manager at Brussels Airlines
Besides the flight to Berlin on an Airbus A320, Brussels Airlines also operates a 100% female crew flight on an Airbus A330 to Abidjan (Ivory Coast) and to Accra (Ghana), where Brussels Airlines' Country Manager and Station Manager are both women. In the cockpit will be Captain Daniela and First Officer Marie. The service in the cabin will be overlooked by Veronique, Patty, Xandra, Isabelle, Maité, Ingrid, Caroline and Peggy. This way the airline wants to support gender equality in Africa, the continent Brussels Airlines considers its second home and where International Women's Day is widely celebrated.
In Eastern Africa does Brussels Airlines operate daily flights from the European capital to Entebbe / Uganda, with one of these services routing via Bujumbura / Burundi while the remaining six flights route via Kigali / Rwanda.