ETHIOPIAN AIRLINES' MOBILE APP GETS ADDED FEATURES

(Posted 19th April 2019)
Ethiopian Airlines, Africa's largest and most successful aviation group, earlier this week announced that it has added a suite of innovative features to Ethiopian Mobile App to advance its functionality, performance and responsiveness.
The multi-language application turns smartphones into an all-in-one travel assistant with localized services. With six key global languages namely English, French, Chinese, Italian, Spanish and Portuguese, can Ethiopian Airlines' passengers also use the App in Amharic, Tigrigna and Oromifa languages.
With over 27 payment options including Visa, Master Card American Express, Diners Club, JCB, Union Pay and Ali Pay, the Ethiopian Mobile App is giving edge to the payment industry of Africa. Payment can also be made effortlessly, as the process of credit card data input is streamlined with scanning.
Available for both iOS and Android devices, the application has also become a convenient channel for customers to indulge in self-service with a simplified check-in experience.
Customers unlock the full potential of their mobile devices and enjoy end-to-end services including booking their flights, paying, checking-in and securing their boarding pass as well as self-boarding. The entire boarding process has never been smoother for customers with the mobile passport scanning.
Digital loyalty card and boarding pass are also readily available with the digital wallet services. Frequent flyers can also retrospectively claim their flight.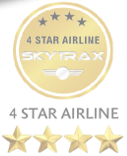 Notably, with a high degree of personalized experience, international travelers to Ethiopia can now secure an e-Visa within 4 hours.
Group CEO of Ethiopian Airlines, Mr. Tewolde GebreMariam, remarked: "We are pleased that we are championing innovation with an industry 'best in class' technologies and our global customers are now enjoying the luxury of mobile travel in large numbers and accessing our award-winning services at every touch point. As a customer focused airline, we will leverage Mobile and Cloud technologies to take customer experience to the next level."
With the upgraded App at their fingertips, literally, can customers remain connected and informed throughout their journey in real-time or keep themselves updated with push notifications, check their flight status as well as verify arrival and departure times. Furthermore, Ethiopian provides an Omni-channel customer experience round the clock with live chats, email and social media platforms to address real-time customer feedback.
Since the initial launch of the application in December 2017, the Ethiopian Mobile App has been downloaded more than 600,000 times.