BOMBARDIER'S AIRLINE CUSTOMERS FOR THE CRJ PROGRAMME LEFT TO COUNT THEIR LOSSES AS MITSUBISHI ENDS PRODUCTION IN 2020

(Posted 25th June 2019)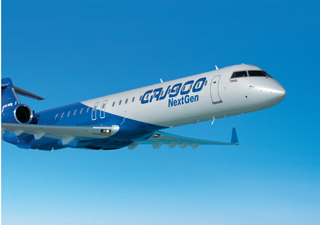 The writing was on the wall for some time now, as repeatedly reported by aviation pundit 'Fliegerfaust' who in the past had time and again made correct assumptions over the divestiture of Bombardier's commercial aircraft divisions.
First to go was the CSeries, now called the Airbus A220, subsequent to which sales at the recent Paris Air Show rocketed beyond the wildest dreams the former owners could have had.
Next to go was the QSeries and while the final I's need to be dotted and T's need to be crossed has that aircraft type for all intent and purpose also been sold off to De Havilland of Canada.
Today news came in – and the writing was on the wall too for some time – that the CRJ programme was acquired by Mitsubishi of Japan, itself a more recent contender for a newly developed regional jet.
It is understood from usually well informed sources that Mitsubishi, now that the deal is sealed, will halt the CRJ production and while continuing to supply airlines with spare parts for some years to come, no new such aircraft will be assembled when the 1 year countdown comes to zero.
Airline customers, who more recently signed up to acquire this kind of aircraft, are now left to hold the proverbial bags and will no doubt face questions from the public at large as well as in some cases politicians who sanctioned the payments, what they knew and when they knew it and probably why they did not know what was going down and therefore went ahead to buy planes which will in a relatively short time no longer be produced.
Writes 'Fliegerfaust' in his daily communique earlier today:
Mitsubishi Heavy Industries, Ltd (MHI) (TOKYO:7011) and Bombardier Inc (TSX: BBD.B) announced today they have entered into a definitive agreement, whereby MHI will acquire Bombardier's regional jet program for a cash consideration of $550 million USD, payable to Bombardier upon closing, and the assumption by MHI of liabilities amounting to approximately $200 million USD. Under the agreement, Bombardier's net beneficial interest in the Regional Aircraft Securitization Program (RASPRO), which is valued at approximately $180 million USD, will be transferred to MHI.
Pursuant to the agreement, MHI will acquire the maintenance, support, refurbishment, marketing, and sales activities for the CRJ Series aircraft, including the related services and support network located in Montréal, Québec, and Toronto, Ontario, and its service centres located in Bridgeport, West Virginia, and Tucson, Arizona, as well as the type certificates.
This acquisition is complementary to MHI's existing commercial aircraft business, in particular the development, production, sales and support of the Mitsubishi SpaceJet commercial aircraft family. The maintenance and engineering capabilities of the CRJ program will further enhance critical customer support functions, a strategic business area for MHI in the pursuit of future growth.
Seiji Izumisawa, President & CEO of Mitsubishi Heavy Industries Ltd., commented: "As we outlined during the recent Paris Air Show, we are working hard to ensure that we provide new profit potential for airlines and set a new standard for passenger experience. This transaction represents one of the most important steps in our strategic journey to build a strong, global aviation capability. It augments these efforts by securing a world-class and complementary set of aviation-related functions including maintenance, repair and overhaul (MRO), engineering and customer support."
Izumisawa concluded, "The CRJ program has been supported by tremendously talented individuals. In combination with our existing infrastructure and resources in Japan, Canada and elsewhere, we are confident that this represents one effective strategy that will contribute to the future success of the Mitsubishi SpaceJet family. MHI has a decades-long history in Canada, and I hope this transaction will result in the expansion of our presence in the country, and will represent a significant step in our growth strategy."
"We are very pleased to announce this agreement, which represents the completion of Bombardier's aerospace transformation," said Alain Bellemare, President and Chief Executive Officer, Bombardier Inc. "We are confident that MHI's acquisition of the program is the best solution for airline customers, employees and shareholders. We are committed to ensuring a smooth and orderly transition."
Bellemare continued: "With our aerospace transformation now behind us, we have a clear path forward and a powerful vision for the future. Our focus is on two strong growth pillars: Bombardier Transportation, our global rail business, and Bombardier Aviation, a world-class business jet franchise with market-defining products and an unmatched customer experience."
The CRJ production facility in Mirabel, Québec will remain with Bombardier. Bombardier will continue to supply components and spare parts and will assemble the current CRJ backlog on behalf of MHI. The CRJ production is expected to conclude in the second half of 2020, following the delivery of the current backlog of aircraft.
There has been speculation that at least one airline in East Africa, which has been flying CRJ's for some years already, may be selling them off and replace them with larger aircraft, in part to streamline their fleet, but those who more recently bought these planes will no doubt begin to feel the heat when questions are being directed at them how they arrived at the decision to buy CRJ's and not the more advanced Airbus A220 or Embraer E190E2 when speculation was rife that the CRJ production was going to end.
What it goes to show in conclusion is that airlines need minds which are wide awake, 24 / 7 and capable to listen to advice but here as elsewhere is common sense a very rare commodity.