ENJOY #KAMPALA'S CULINARY VARIETY AGAIN THIS AUGUST

(Posted 12th July 2019)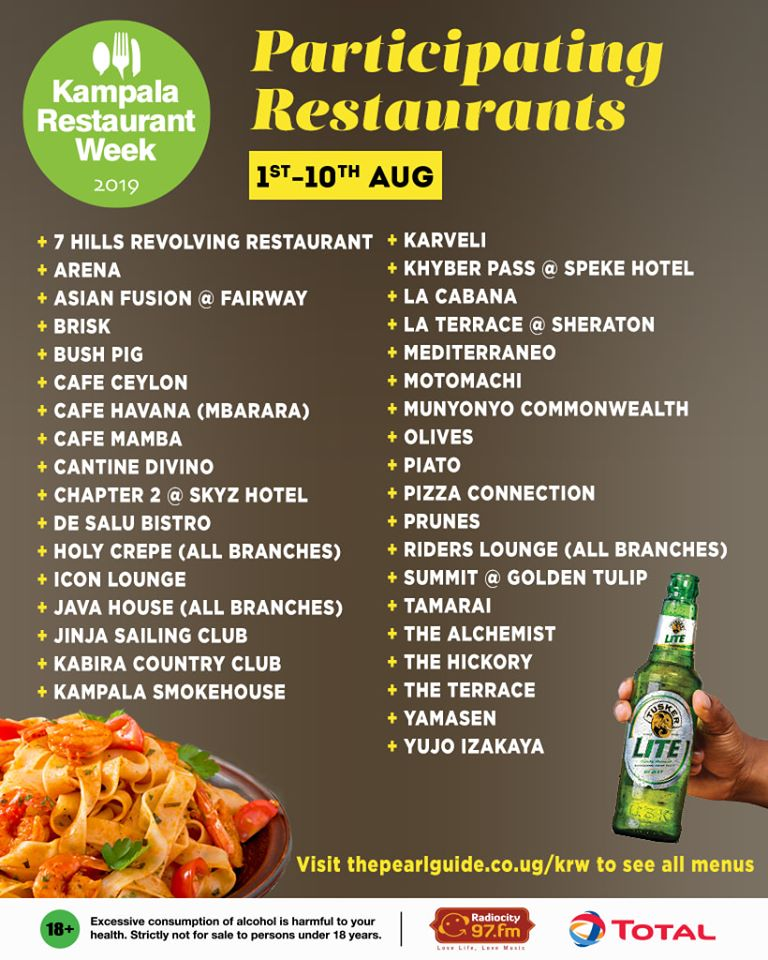 Over 40 restaurants across Kampala but also in Mbarara and Jinja this year will be participating in staging the 2019 edition of the Kampala Restaurant Week which intends to showcase Uganda's vastly improved culinary variety during the first 10 days in August.
Expanded this year to include as many as three courses will guests enjoy full scale meals at largely reduced prices.
Like in previous years it is highly recommended to book a table at a restaurant of one's choice to be sure to be seated for a meal as experience shows that otherwise participating restaurants will be sold out for both first and second seating.
Casual Dining Restaurants will offer special 3 course menus with their Starters at 15,000 UGX, Mains at 25,000 UGX and Desserts at 15,000 UGX. Signature Dining Restaurants will offer their Starters at 20,000 UGX, Mains at 35,000 UGX and Desserts at 20,000 UGX. All main meals in all restaurants will be served with a complimentary Tusker Lite Beer.
Among the signature restaurants are such favourites like The Terrace – Sheraton Kampala Hotel but also Cafe Mamba, Mediterraneo, Tamarai, Yujo Izakaya while among the more casua restaurants are Holy Crepe, Java House, the Jinja Sailing Club, Pizza Connection and Prunes, among many others.
Bon Appetite!