(Posted 12th February 2022)
Daily Zanzibar/Dar es Salaam – Serengeti Schedule

We wish to inform you of the new schedule service from Zanzibar/Dar es Salaam to Serengeti. This is a morning schedule. Below are the flight timings: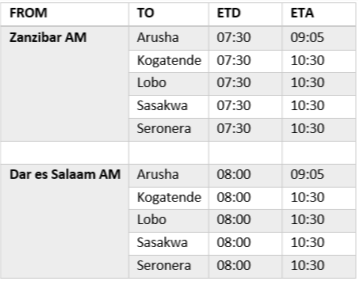 Timings may vary depending on aircraft routing


Resumption of Tarime Route

We are pleased to inform you of the resumption of Tarime flights effective 11th February, 2022 and this service will operate with a minimum of 2 passengers per airstrip.The Serengeti – Maasai Mara service seamlessly connects with our sister company Airkenya Express Ltd hence enabling clients to enjoy breakfast in Serengeti and lunch in Maasai Mara or vice versa.
 
BOOK A TICKET AND JUST FLY

DHC-8 – 37 seater
Plan your safari with us with the aircraft that suits your safari needs.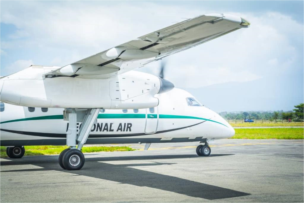 Regional Air Services – P.O. Box 14755' Arusha' Tanzania
Mobile: +255 675 285 753 / +254 754 285 754.
http://www.regionaltanzania.com- resvns@regional.co.tz