KES 1,500,000 raised by the Mount Kenya 3 Peaks Challenge!!!
Sending a massive THANK YOU to all our supporters!
The main peaks viewed from Austrian Hut, the start of the main ascent.
KES 1,500,000 raised for the Mount Kenya Horse Patrol Team!
We are very pleased to announce that just under KES 1,500,000 was raised by the Mount Kenya 3 Peaks Challenge fundraising climb and subsequent event at One Stop Nanyuki. All monies raised are going directly to fund the Mount Kenya Horse Patrol Team and will go a long way towards supporting the work they do to protect the northern forests and moorlands of Mount Kenya. We want to say a huge ASANTENI SANA (thank you very much) to everyone who donated and supported us, but especially our friends at African Ascents who were integral in putting the trip together.
The monies raised are going to be split three ways and will be used as below:
One third will be used to expand the team, purchase equipment and undertake infrastructure upgrades at the HPT's base at Kisima Farm. So far, we have employed one new HPT member and a dedicated driver for our Northern Area vehicle, both of whom come from the local community. See the picture below.
Another third is being used to cover a shortfall in funding for the operational costs of the Horse Patrol Team for this year. This will go to covering such things are the existing team member's salaries, fuel costs and horse feed.
The remaining third is being set aside for the construction of a satellite camp for the Horse Patrol Team and other MKT foot patrol teams near Mbaru Crater. This is pending proper authorisation by the Kenya Wildlife Service Head Office.
Andrew (left) and Jimmy (right) grooming the horses before their first riding lesson.
Thank you again everyone!
The event was a great success and we couldn't have done it with out you. Please keep an eye on our Facebook page, Twitter and website for more news from the Horse Patrol Team and next year's 3 peaks challenge!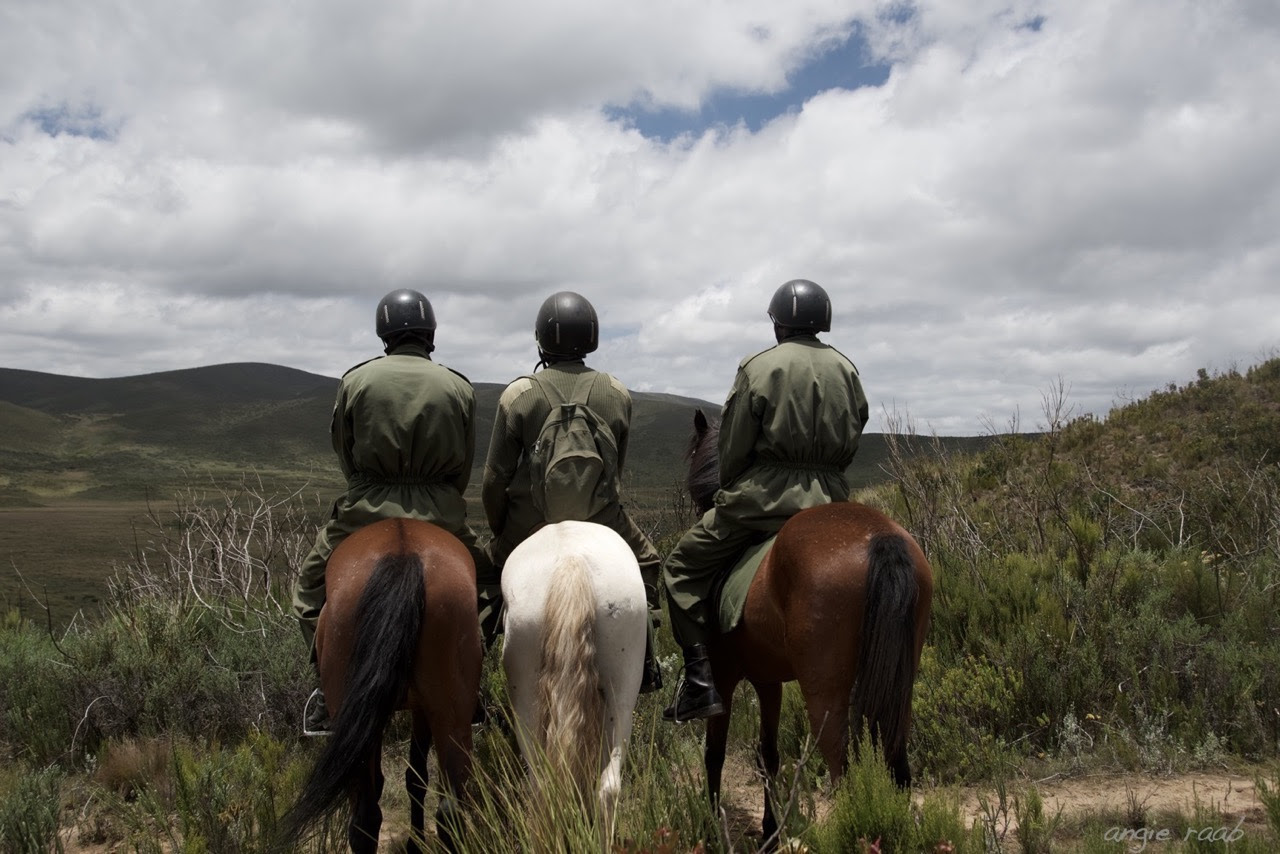 Horse Patrol Team members looking into the Mbaru Crater.
Image credit to Andreas Maxones