Swahili Coast: A sub-brand of Magical Kenya seeks to market the Kenyan coast as a separate destination
Posted: 07 Jan 2013 02:00 AM PST
A large number of tourism players at the Kenyan coast have expressed sentiments that they would wish to see the coast tourism circuit branded and marketed as a separate destination. The coast tourism circuit under this envisioned plan would be marketed as a sub-brand of magical Kenya. Plans are already underway to make this dream a reality. According to Mombasa and coast Tourist AssociationCEO, Millicent Odhiambo, the branding of the coast as a sub brand of magical Kenya would give not only give it focus on product development but also an increased budget and visibility.
To achieve this Mombasa and Coast Tourist Association (MCTA) has already tested and approved the brand for the coast region which has been aptly named Swahili Coast. The brand name Swahili Coast was chosen to incorporate the Swahili culture which is dominant in the region. The Kenyan Coast is brand supported by the Kenya Tourism Board (KTB), the country's national tourism organization, which has endorsed it as a sub-brand of the country's Magical Kenya brand. As part of this branding, MCTA now wishes to establish a portal named Swahili Coast, an online web portal for marketing and promoting the Swahili Coast the world over.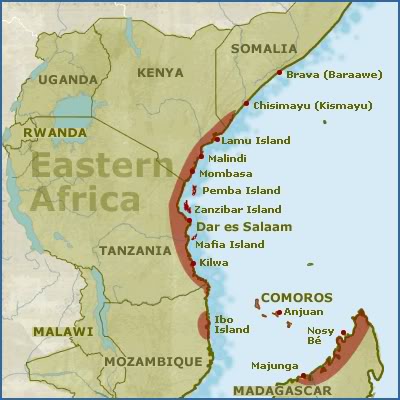 There are a number of benefits that are expected to accrue from the re-branding exercise. A strong Kenya Coast brand will help to attract increased foreign direct investment in infrastructure, and also has the potential to attract global hospitality brands to the region. In turn, this development would provide a strong base attracting more direct scheduled air services from overseas to the region, thereby expanding the current narrow market base, and decreasing the over-dependence on European originating charter flights. The Magical Kenya website covers the whole of Kenya but has not yet established the level of detail required for an international website, in order to properly market and promote the Kenya coast and other specific regions of the country.