(Posted 22nd August 2022)
The prospect of a mega-rock concert had me on tenterhooks for months, doing everything
possible to ensure I get my Schengen Visa from the impersonal visa handling service TLS in
Nairobi. My entire life and the contents of my bank accounts were scrutinized before
granting me the holy grail of international travel: a visa that would allow me passage
through 6 countries in Europe for a 3-week road trip. Awesomeness was understating how I
felt as I took the newly minted JKIA express highway to the airport and boarded Qatar
airways to my first stop, Doha.

Doha mega airport, a Mecca for gold-wallahs and Asian migrant workers, had more than a
couple of Porsches and Jaguars casually sprinkled about, a flying train overhead to ferry
passengers from one end to the other, and so many duty-free shops they literally blended
into each other. The connection to Frankfurt was relatively easy to find but involved a very
long and wistful walk past glittering Bulgari and Dior outlets. One day I will also afford to
shop here I secretly vowed to myself. But first, we are off to conquer Europe and their
Barbarians.

See, I have a bias against Europe, having lived there for 12 of my formative years, and so I
was a little anxious about the reception I would be getting when I arrived in Frankfurt
Germany. Thankfully my hosts swept all such thoughts out of my head by bundling me into a
vehicle from Spain called Seat Aroni and whisking me straight to Italy.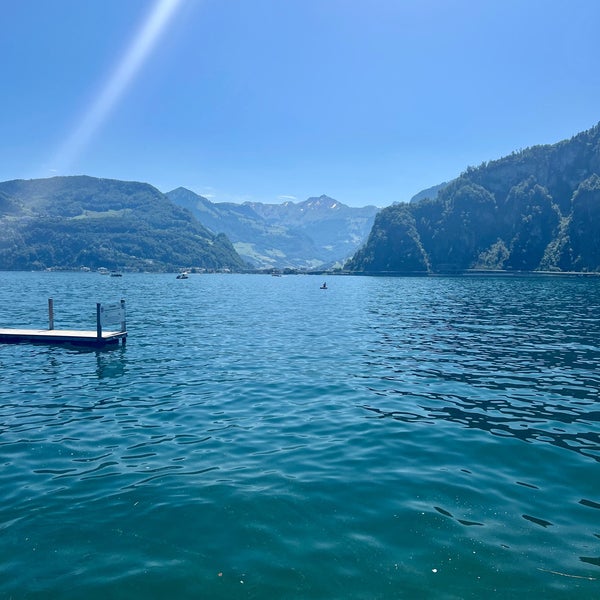 The drive through Switzerland's Luzern region to the Alps was so crisp and clean, I truly
believed I was in The Sound of Music. The hills were alive with wild blossom, and the little
wooden chalets were unchanged from centuries before. The roads were wide and
smooth, with plenty of tunnels through mountains for minimal impact to the environment.
And this is what impressed me the most: how nature was protected at every turn. The lakes
were so blue we had to stop and swim. The unseasonal 31-degree Celsius heat demanded it.
So, we Googled the nearest public lake access and came to Badi Hergiswil, a pretty little
town at the foot of the mountain, with a public pool right beside a pristine lake fed by the
melting glaciers. There was a deck for the kids and a 30-foot diving board into the lake for the
more daring, and we took it in turns dive-bombing into the lake as we screamed on the way
down. The water was super cold and refreshing, with no niggling little fish nibbling at your
toes.
Fresh and wrinkled from the cold water, we got back into the hot car and continued to Italy.
It seemed to get hotter when we got to Lake Como, a formally famous town that now just
looked like a 1960s ode to condos. We pressed on our 12-hour journey to Vignale
Monferrato, a 1000-year-old village perched on a hill on the outskirts of Milano. I had
another movie moment and this time it was that perennial Italian homage, The Godfather.
Rolling fields of vines, olives and wheat, climbing tomatoes and a road that wound itself
round the town like a long-known lover.
Shuttered old buildings, some pristine, some left with their age-acquired flair, all oozing out various smells that made me hungry. We sat in the humid night, swatting mosquitoes the size of peas, drinking award-winning locally made wine, eating authentic 3 course meals and getting to know each other. We slept at Il Mongetto Azienda Agricola, a beautiful farmhouse with attic rooms that had at least one
glass wall, and a pool for you to keep cool like a hippo.

The next day someone had the bright idea to do a walking tour of the village in the midday
heat, starting from the foot of the hill and winding all the way to the top of the cathedral.
It boasted 700-year-old 3D paintings that looked like sculptures of saints, and murals made
entirely out of the "Pointillage" painting technique.
On the way up we passed cute little caféwith equally cute staff, placed right next to Palace Calderi, a 150 roomed palace built in the1500s, where the infamous Christopher Columbus once stayed. The man had the ability to convince anyone into anything it seems.
The palace is now closed, because it costs too much to maintain. This demands a merger with a 5-star hotel.

Our car, Aroni, proved her worth more times than one, as we flashed from country to
country on the smooth autobahns, with regular cyan blue signs marking ausfahrts (exits).
We just missed the Mont Blanc summit and passed through Le Grand Bernard peak's
winding blacktop back into Switzerland, where we were due to watch the Cirque to Soleil in
Geneva and meet up with friends. Unfortunately, due to a threatening thunderstorm in the
lakeside metropolis, the circus was cancelled for safety reasons. One bucket list item
remains uncrossed. We did however swim in the lake, not far from it's famous 500m jet of
water into the sky.

Moving swiftly onto Munich, and King Ludwig the Second's castle Nymphenburg silently
chided me for my previous Barbarian comment. Built from 1715, the baroque palace left no
stone unturned in its quest to impress it's guests. Nymphenburg Palace was extremely
popular with the Bavarian rulers as a summer residence, and was in effect the house where
they came to play. And play they did, with gold, porcelain and brocade interiors, silk walls
and marble baths the size of my house, and 180 hectares of well-manicured gardens
modelled on Versailles, with forests filled with deer, pheasants and white swans. Not a bad
way to live.
We went and quenched our hunger and thirst after the long glittering tour in a
humble Bavarian Biergarten a few streets away and ate pork knuckle with a gelatinous
potato ball and deer goulash, with home made mini gnocchi and cranberry sauce.
We went Goth in Cologne cathedral, after changing my lip-ring to a skull in Lausanne and
getting lost in Luxembourg, before doing the The Barber of Seville at the Köln Opera House
and driving to Belgium for ROCK WERCHTER!
If you want to know how that went, watch thelink below. Summing up 4 days of mayhem within the existing word-space would not do it justice.
And I gracefully returned home via Holland, where I scored myself a Lockheed
Starfighter jet plane from the 1980s. Satisfied, I did not even complain about the super-long
queues and endless stop and searches by airport police and customs that led to flight delays
in Frankfurt, and missed connections in Doha and finally $20 cabs in Nairobi. I was home.
East West, Home is Best. But I will miss the hotel showers…
To watch THE FOMO TRAVEL SHOW EP87 AN AFRICAN IN EUROPE:

https://www.youtube.com/watch?v=a_AtxacO9ko

To book a room at Il Mongetto Vignale:
info@mongetto.it
www.mongetto.it

To watch Cirque De Soleil:
www.cirquedusoleil.com

To know about Rock Werchter:
https://www.rockwerchter.be/en/
Contact Achola Rosario via coalrosa@gmail.com if you are interested to have your location or event featured on the F.O.M.O. Travel Show and on www.ATCNews.org