AFFORDABLE SEYCHELLES NOT A MYTH AS THE FACTS SUPPORT REALITY

When talking to friends, acquaintances and business partners about the Seychelles, and going by the feedback from my blog, now with just about 200.000 hits, it almost always evokes awe, envy at times but for sure fires up the interest and desire of my listeners and readers, wanting to go and explore this little paradise deep in the Indian Ocean themselves, a thousand miles from anywhere else and comprising 115 islands. People are glued to my lips when I talk of the inner and outer islands, made of granite and coral, mention with a hushed voice the fabled Aldabra atoll which I myself am yet to explore in person and explain about the distant Amirantes group of islands way out in the ocean and reached only by air or a lengthy journey by sea. I describe in colourful detail an island paradise of unparalleled beauty, a country which has by law protected over half of its territory and created marine national parks to protect their oceans too. I can go on for hours about my exploration not just of the main island of Mahe, the beautiful Seychellois styled residences at Takamaka or the centrally located Morne National Park but of Praslin, home to the Coco de Mer at the Vallee de Mai and of La Digue where I could retire in a shack on the beach. No wonder that it spurs instant interest to travel there, explore for themselves and yet, when they have gone on the net and done a cyber visit to the islands and the places I talked about, for many the interest levels wane and they challenge me next time we meet with comments like This is a millionaires island or this is only for the rich with reference to the prices for those top class resorts I had mentioned and then they want to know how one acquaintance put it candidly to me how ever can us lesser mortals hope to go there without breaking the bank or selling our house.
I took those challenges seriously to heart and spent time to carry out research while recently on the islands again, setting aside 3 ½ days of 7 overall to personally explore the lesser, almost unknown side of the archipelagos tourism industry, the side where one gets close up and personal with the Seychellois people, their lifestyle and their involvement in the industry after years of domination by foreign managed and often foreign owned resorts. Those of course helped to put the destination on the global map by offering superior 5 star services for the rich and famous, the glitterazzi and those seeking to rub shoulders with them. It is what got the Seychelles marketing juggernaut underway and keeps it moving with no holdup on the way it seems.
Yet, I was determined to prove, once and for all, that while admittedly the Seychelles are not cheap and never will be, the Seychelles can be quite affordable all the same.
Although the Seychelles Tourist Board dedicates promotional space under the headings Budget Holiday Accommodationand Seychelles Secrets on their state of the art website to this segment of the market, giving a detailed overview of licensed guest houses, B&Bs, self catering establishments and holiday apartments, the main thrust of overseas promotion regularly highlights the top end of the market, where world class resorts and Spas feature, projecting the destination with the glitz and glamour it evokes in peoples mind when they hear about Seychelles. Royal Honeymooners, Sports, Pop and Film Stars, Russian Oligarchs, Middle Eastern Sheikhs, Industry and Media moguls, politicians, top fashion designers for photo shoots, they all think of Seychelles as it is on top of their Most Wanted list of places around the world where they want to go and be seen, or not be seen as often is the case the islands are well known to protect the identity of their visitors.
North Island, the honeymoon destination of the Duke and Duchess of Cambridge, the MAIA, the Banyan Tree, The Four Seasons, the two Constance Resorts on Mahe and Praslin, the Raffles, the La Meridien resorts, the Hilton Northolme or the Kempinski, they all have ticks in all the boxes and provide hospitality which can compare with the best in the world, and I speak from experience here having stayed in many of those I listed and visited the others, at a price that is. This is the side of the Seychelles the islands are known for around the world and they appear in the high gloss travel and lifestyle magazines and make the global top ten ever so often, resorts and beaches alike. But then, as I intend to show here, it is while the better known side not the only side of what tourism to the archipelago looks like and what in reality exists, the other side, the affordable side, just waiting to be explored, discovered and then talked about.
The increase in the number of seats to the archipelago, 28 frequencies now from the Gulf alone by Air Seychelles / Etihad, Emirates and Qatar Airways, connections to Mauritius and Johannesburg plus 7 flights from the African mainland, three by Kenya Airways and four by Ethiopian has piled some level of pressure on the market to actually fill all those new seats to viable and sustainable levels. Special fares have helped to make self tailored holidays in the islands a reality for many, who could until now only watch from the sidelines and dream of paradise on earth as the Seychelles are rightly described by travel writers and travelers alike.
During a recent visit I explored two resorts in person but added another one I stayed at before and one more I just visited in passing, so that readers can see the range of available options for holidays and perhaps go on the web and research more such places to eventually make this dream holiday of a life time come true.
The Chalets dAnse Forbans comprises 12 cottages, some of them only 20 metres from the beach, are fully equipped for self catering, i.e. offer kitchen and dining room besides a sitting room, an air-conditioned bedroom and a verandah. Connecting doors are available for families or friends travelling together. At the chalets one never has to fight for sun beds, on which sneaky neighbours would place their beach towels at the break of dawn, as each villa has enough for the number of guests it can accommodate. The owners have kept the place in ship shape for nearly 20 years now, an almost private beach is as good as they come on the Seychelles and the extras the owners provide to guests here are what makes the vacation experience complete.
Need a cook to prepare breakfast, lunch or dinner? Of course madam, happy to arrange for that, after all why should you stand in the kitchen when otherwise frolicking at the beach. And by the way, fishermen come by to sell their fresh catch of the day and the cook will of course buy, prepare and serve it for you.
Shopping trips to a nearby supermarket are facilitated by special arrangement whereby the owners of the supermarket send a car, upon prior arrangement, to pick guests from the chalets and bring them back to make life a bit easier while on a holiday.
Car hire no problem, what colour would you like?
Recommendations for eating out tell us your budget and we can name the places, nearer and further away. Exploring the islands here is the bus schedule and it costs 5 Rupees per trip regardless of the distance and the bus stop is right outside the chalets main gate. Now that is a fine way to explore the island, criss crossing it by bus, where sitting higher up than in a car the result are better views and for those not used to driving on the left of the road, the bus driver takes care of maneuvering through traffic.
Take away meals? Yes, there are some really good Seychellois owned take away places not far from here and a lunch box selection of salads and a choice from several main courses costs just 50 Rupees, often enough to feed two even. To put that in perspective, one US Dollar presently fetches about 12.40 to 12.50 Seychelles Rupees, in other words a lunch, or dinner for that matter, comprising assorted Creole dishes , costs as little as 4 US Dollars. Add a bottle of soda at a about 16 Rupees or a beer at about 23 Rupees a meal for two light eaters can be had for less than 10 US Dollars. And yes, to answer the anticipated question, I did have a take away box, ate my square meal, shared some of the contents with friendly Seychellois sitting on the beach side bench next to me and then got back on the next bus after putting the wrappings into a readily available waste container.
Organized excursions, a fishing trip, a day trip to Praslin to see the Vallee de Mai, the most visited tourist attraction in the Seychelles, again no problem, the owners, available in the office between 8 and 4 on work days, will be happy to arrange for it.
And for those intending to tie the knot, the Chalets dAnse Forbans are ready to stage a beach side wedding too, have in fact done plenty of those, so for anyone on a tighter budget, there is a real chance to enjoy their big day and following honeymoon at a perfect beach, in a beach side villa, and with a cook, at a small extra cost, who arranges for all the meals and even the washing up is taken care of, leaving those chores to the newly weds after they return home from an affordable dream holiday. And all that is available for between 120 and 150 Euros a night per room, minimum stay of 3 nights required while a larger family cottage sets one back between 210 240 Euros a night, sleeping 4 in two bedrooms and a joint sitting and dining plus kitchen area.
My second location was a beachside apartment complex, the Pieds dans LEau on Anse Royal, which included also a restaurant, a PADI dive shop, a boutique, a bank and across the street some shops to buy provisions. The bus stop is less than a minute walk away and here again I found a combination of a beach side location with excellent connectivity. 6 very spacious and very well appointed apartments, balcony and seaview included in mine, though not in all others, one of them offering mountain view. One apartment is large enough, with over 100 sq mtrs, to accommodate up to 6 in two bedrooms and a fold out sofa bed in the sitting room, while other apartments are comfortable for anywhere between 2 and 4 occupants. Fully equipped kitchenettes, in open plan with the dining and sitting room, tastefully furnished, air-conditioned of course and really providing a home away from home but at a beach on Mahe. At a sticker price of between 92 to 210 Euros a night, negotiable I understand in particular during the low season, this is again, when divided between 2 or more people, a perfect way to keep the cost of a holiday in the Seychelles down, and when eating in the restaurant, the prices there too are not over the top. No surprise that the establishment received TripAdvisors Certificate of Excellence for 2012 as that, and more, is fully deserved.
(Breakfast at Pieds dans LEau Les Dauphins Heureaux Café and Restaurant, starting with local fruits and then some delicious homemade marmalade and jams and on the right a view of the sitting / dining room of the apartment)
Shopping for daily necessities from across the road is simple and often nearer than back home and with the cost of daily items, at least for tourists that is, equally affordable the overall cost of a 10 day holiday per person, air fare included, can be less than 2.000 US Dollars. Air fares of course vary depending on the distance but when coming from anywhere around the world and using the main Gulf carriers, there are always special deals to be had outside the peakest of the peak season and both Kenya Airways and Ethiopian do offer attractive fares from their destinations in Africa via their respective hubs in Nairobi and Addis Ababa.
A loaf of bread, and this was researched in a small local supermarket, an Indian owned corner shop and one of the STC markets (Seychelles Trading Corporation) in Victoria, costs between 11 and 12 Rupees, less than a Dollar, a baguette goes for 9 while eggs go for 3.50 each. UHT milk is found at between 21 and 25 and a box of tea bags, depending on size and brand, goes for between 25 and 44 Rupees while instant coffee, again depending on brand and size, goes for between under 44 to 122 Rupees, the latter for Nescafe Decaf, the most expensive brand seen. Yogurts at 5, sugar per kilo at 15 and butter at 33 per 250 grams go hand in hand with breakfast cereals from 27.50 Rupees, all that taking care of breakfast.
Speaking to my driver, his family of 5, including three grown up kids, spends about 3.500 Rupees on a monthly shopping basket, which includes of course a lot more items like detergents, something tourists may not require while on holiday in a self catering place, as daily housekeeping is included in the cost of the overnight. It is therefore safe to assume, that taking into account some more fancied tastes of tourists in terms of brands or items, a weeks purchases will not cost them more, fruits, vegetables, pasta, flour and all included, than say 1.200 Rupees for a couple, or 100 US Dollars in hard currrency. Add more if a daily bottle of wine is wanted or a six pack of beers or liquer, but that clearly is optional and based on individual taste and fancy and budget. That given expense by the way includes fish, often purchased at low cost from fishermen at the beach, and meat products like sausages, burgers, chicken or beef, here again fillet requiring a top up premium. Given such prices, and considering the cost of take away, and taken an average of say 100 US Dollars per person per night for an apartment, or a self catering chalet those command a premium when at a beach front but are more affordable further off the beach or higher up in the mountains, a week truly is possible for around 1.000 US Dollars and less if opting for some of the off beach and more simple establishments.
In fact, feedback from the island of La Digue would indicate that some rooms on self catering basis, albeit non air-conditioned though with a ceiling fan, could go for as low as 40 Euros per night during the low season. To get to La Digue of course two ferry crossings are needed, from Mahe to Praslin and from Praslin to La Digue, prices of commodities in the supermarkets or shops are higher but overall due to the delivery cost of items from Mahe but, the overall expense of a weeks vacation should not significantly alter. And for those less adventurous, not wanting to cross the ocean in what will turn out to be a great experience on sunny days, even on Mahe itself rack rates for some establishments listed on the STB website are as low as 36 Euro a night, or about 50 US Dollars depending on the rate. Truly, no one can call that expensive or unaffordable, given the location and the fact alone of being in the Seychelles. Yes, those establishments are simple, perhaps even basic, but then, when spending the day out on the beaches or criss crossing the island by bus, it really only takes a decent bed and a shower for the few hours at night spent in the room and general standards of hygiene and compliance with local regulations is guaranteed by regular inspections by tourist board licensing staff.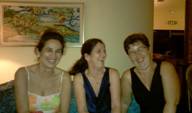 (My hosts while doing my Affordable Seychelles research clearly enjoying my jokes)
I have in the past also stayed at the Bord Mer Residence in Beau Vallon Bay, only separated from the ocean by the road and the Boat House, one of the Seychelles most famous Creole specialty restaurants, and that little property too offers a small, yet fully equipped kitchen, a dining area, a sitting and bedroom combined in open plan and is also lovingly maintained and kept shining, attracting regular repeat business. This comprises of clients NOT wanting to spend a great deal of money on a 4 or 5 star resort but rather be independent, roam the island by bus, or self drive vehicle, and eat out, or eat in as they feel like. Accommodation here includes a breakfast, prepared to order and either delivered to the room or else taken in the main lounge.
In the same category, also located in Beau Vallon Bay, is the Hanneman Holiday Residence, which while on the islands two weeks ago just got anointed by TripAdvisor to be the 4th best B&B in the entire Africa, when the 2012 list of the 25 best B&Bs in Africa was published. This is no mean achievement considering the competition out there, on the Seychelles itself and on the continent of Africa. Hanneman was 4th placed behind a South African and two Moroccan properties much longer in existence and with such holidays much more popular there of course, than this sort of vacation still is in the Seychelles. Still, even here the Hanneman enjoys a top rating amongst B&Bs, for location, personalized service and they even have a pool, giving tourist visitors literally all they need to make a vacation THAT dream of a lifetime.
With accolades like these, there is no doubt that the news will spread about this aspect of vacationing on the dream islands of the Seychelles, where there is a place for the rich and famous just as much as for ordinary folks wanting to make a dream become reality. Seychelles, truly Another World and now evidently affordable for visitors too. Not cheap, I never said that, but affordable for sure, and much more affordable than most would ever have considered or previously believed when I said so but without all the details at hand to back up my statements.
In closing the links for the relevant webpages from the Seychelles Tourism Boards Budget Holiday Accommodation, where some 82 licensed establishments are listed, all are regularly inspected by STB to ensure standards are maintained and clients get value for money.
Pay the Creole island paradise of the Seychelles a cyber visit via their website www.seychelles.travel or go straight to www.seychelles.travel/en/plan_your_visit/budget_holiday_accommodation.php?isl=&cp=5&pr=&lct=&ob=na or click on www.seychellessecrets.com but best, come visit in person. The Seychelles require NO VISA AT ALL, just a return ticket, a confirmed booking for accommodation, funds to sustain the duration of the visit and when coming from some parts of Africa, a valid Yellow Fever inoculation certificate. With a wide choice of airlines now flying to the international airport on Mahe on a daily basis, and with such splendid and affordable offers, surely I will see you someday soon on the islands?