AIR SEYCHELLES GETS SECOND AIRBUS A330

Air Seychelles, Etihad's Indian Ocean islands partner airline, has seen a second Airbus A330-200, emerge from the Etihad maintenance facility's paintshop this week. The new aircraft will soon fly to Mahe before formally being put into service with the inaugural flight to Hong Kong in early March as well as scheduled flights to Mauritius and Johannesburg.
Named after the Seychelles most visited attraction, the Vallee` de Mai' on the island of Praslin, the new bird will also shine with a new livery including the airline name painted on the underbelly so that on landing, those on the ground, can see where this flight came from or is going to.
The aircraft, when it 'officially' joins the Air Seychelles fleet, will also see the completion of the initial fleet renewal programme which was agreed between Etihad and majority partner Government of Seychelles at the start of the partnership. Already underway when Etihad bought a 40 percent share of the airline from the Seychelles government, it saw all B767-300 aircraft being progressively returned to the lessors to make way for the introduction of the A330's, an aircraft of course also flown by Etihad, allowing for the pooling of maintenance, training and other cost saving measures.
Happy Landings to the new 'bird', the crews and all the passengers enroute to and from the Creole Island Paradise of Seychelles.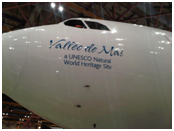 (Picture courtesy of Robeel Haq Esq)