(Posted 06th November 2022)
Precision Air has since the morning report filed two updates about the crash in Bukoba.
Details are shown below for the benefit of readers: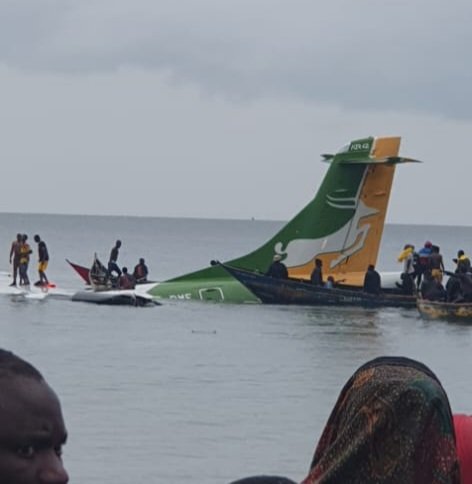 (Twitter picture courtesy of @tonyanelka)
The aircraft, as seen above, is by and large submerged and Tanzanian authorities immediately dispatched rescue boats to search for and rescue passengers and crew on board.
The aircraft registration was  also confirmed to be 5H-PWF, not PW5 as earlier reported by ATCNews.
Contrary to earlier reports, only 39 passengers were confirmed to be on board the aircraft, plus 4 crew members.
It has meanwhile been reported that at least 3 of those on board have died but there is still uncertainty over the balance of passengers and crew on board.
As night falls over Lake Victoria and Bukoba it will be increasingly difficult to continue with search and rescue operations and one source from Dar es Salaam has suggested that the operation will be turned into a search and recovery operation soon as hopes to find more survivors are now dimming.
Precison Air Press Release 2)
RELEASE -2
06.11.2022..We regret to announce that Precision Air flight no PW 494 operated with ATR-48
aircraft (|PWF), with 39 passengers onboard, (38 adults and 1 infant) flying from Dar es Salaam
to Bukoba has been involved in an accident as it was approaching Bukoba Airport and crash landed
in Lake Victoria. The rescue is ongoing and we can confirm 26 passengers have been rescued and
rushed to the hospital for medical care. No death has been confirmed at the moment.
An investigation team consisting of Precision Air technical staff and TAA has also departed to join
the rescue team on the ground.
We have established information centers in Bukoba and Dar es Salaam, for Dar es Salaam the
center will be at Blue Saphire Hotel-Vingunguti, and for Bukoba the center will be at ELCT Hotel.
Next update will be issued at 3pm at Serena hotel, Kivukoni-4 conference hall.
Precision Air Press Release 3)
PRESS RELEASE -3
06.11.2022. 15:00 LT…Precision Air confirms that rescue operations are still ongoing we are yet
to confirm the number of fatalities from the scene of the accident, involving flight PW-494 which
crashed in Bukoba at Lake Victoria in Bukoba today.
The aircraft, 5H-PWF, ATR42-500, was flying from Dar es Salaam to Bukoba when the accident
occurred at 08:53 local time. There were 39 passengers (38 Adults and 1 Infant) and 4 crew on
board the flight.
A team of specially-trained Precision Air personnel and TCAA are on their way to Bukoba to
provide whatever support and assistance that may be required at the scene.
Relatives and friends of those who may have been on board are requested to call the special line
0786-300415/0789-266600 or visit our information centers at Blue Saphire Hotel at Dar es Salaam
or ELCT Hotel in Bukoba.
Precision Air sincerely understands the anxiety for confirmed information and will therefore do its
best to issue more details upon confirmation from our rescue team and authority.
The next update will be issued as soon as we receive more information from the accident scene.
www.ATCNews.org will continue to monitor the situation and file updated reports when added information becomes available.