(Posted 02nd November 2022)
Hello and welcome to our third newsletter of 2022.
The rains are back and most of Akagera  is lush and green. Flowers are blooming again and there is an abundance of birds and insects. Over US $1,500,000 of tourism revenue was generated in last quarter making it our best performing quarter in the history of  African Parks management of Akagera. Read on for some of our more recent activities below.
Gishanda Fish Farm.
On Tuesday, 18th October 2022, Akagera Management Company officially opened Gishanda Fish Farm. Built in collaboration with 
FoodTechAfrica
, the Gishanda Fish Farm is an innovative opportunity for skills development that will accelerate Rwanda's aquaculture sector, while creating jobs, addressing nutritional needs and helping to replenish fish stocks in lakes in the region. A key output of the farm will be quality tilapia fingerlings which will be sold commercially to support the farm's operations and distributed to lakes and fish farmers in Eastern Rwanda to bolster regional aquaculture, creating sustainable protein sources.
Supported by the Rwandan and the Netherlands governments, the new Fish Farm will have multiple spin out benefits, and already has had many localised impacts during its build and initial operations. As well as local jobs, the fish farm has supported a school with clean running water, two villages have received electricity, and local farmers are receiving rich effluent fertilizer at low cost.
The opening ceremony was attended by representatives from African Parks, Rwanda Development Board, Ministry of Agriculture and Animal Resources and the Embassy of the Netherlands in Rwanda. There were also delegates from Rwanda and the Netherlands, whose support has been instrumental.
Official opening of Gishanda Gishanda Fish Farm outside Akagera.
New Rangers.
On Friday, 7th October, 126 rangers completed an intensive eight-week training programme in Akagera jointly organised by 
Rwanda Development Board
 and the Park management. The new rangers will be deployed in Akagera, Nyungwe, Volcanoes and Gishwati-Mukura National Parks. These new rangers, including 22 female rangers, underwent an intensive selection and recruitment process and training programme including an intensive exercise regime, combat and weapons training, and were taught measures to monitor the parks and fight poaching.
In a ceremony attended by representatives from Eastern Province, Rwanda Development Board, Rwanda National Police and Akagera National Park, Ladislas Ndahiriwe, the Manager of Akagera Park, congratulated the new rangers for their tenacity during the training period and wish them all the best in their future careers as rangers. He assured them of more training opportunities wherever they will be deployed in the country.
126 rangers completed an intensive eight-week training programme in Akagera. Photo: JP Karinganire
Rhino Velo race 2022.
The annual Akagera Velo Race was held on 23 August after a two-year hiatus due to Covid. 144 participants took part in the 30km race, with more than 6000 spectators attending. The race was followed with the official launching of several Revenue Sharing Scheme (RSS) projects from 2021/2022, as well as handing over of symbolic cheques worth over US$500,000 to local governments for the 2022/2023 RSS projects. Akagera contributes 10% of annual revenue towards RSS, a scheme implemented and managed by the Government of Rwanda. Our community team is closely involved in the selection and monitoring support of RSS projects. All the events of the day were conducted in conjunction with the Rwanda Development Board.
Wildlife Ranger Challenge.
Over 100 Rangers and staff from all four Rwanda National Parks participated in the annual Wildlife Ranger Challenge (21km half marathon) that took place in Nyungwe National Park on 17th September 2022. The goal of the run is to build camaraderie between rangers from all Rwanda parks and to raise awareness for supporting the work of wildlife rangers across Africa's protected areas. The rangers and park staff were joined by members of the Rwanda National Police and the local community from different areas adjacent to Nyungwe Park.
Team Akagera participated in the 2022 Wildlife Ranger Challenge in Nyungwe. Photo by JP Karinganire
Wildlife health workshop.
Akagera National Park, in collaboration with the Veterinary Initiative for Endangered Wildlife (VIEW), hosted a three-day workshop for Rwandan veterinarians that focused on ethics, biological sampling, disease surveillance, clinical presentations of wildlife diseases present in Rwanda, and game capture. A select group of participants spent an additional three days in the park for practical experience with the park's Conservation and Research team.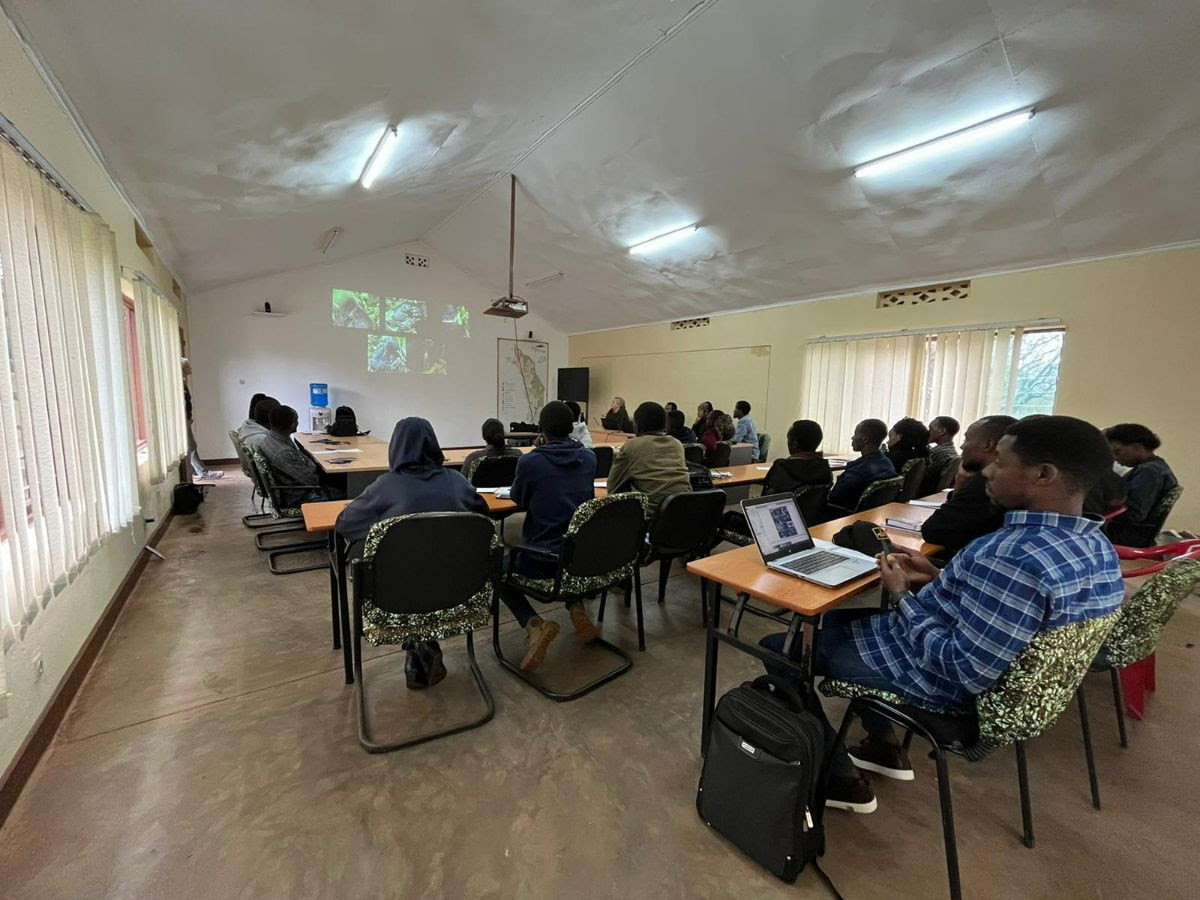 Vets workshop in Akagera. Photo by Drew Bantlin.
Reptile and Amphibian workshop.
A short training workshop for guides and other staff was hosted in collaboration with the University of Koblenz. The workshop covered basics of reptile and amphibian ecology, identification, and diversity in Akagera. Participants also joined the workshop hosts and the Conservation and Research team into the field during the evenings to learn about amphibians and assess frog species based on their calls. At least one new frog species was recorded for the park, with a second new species awaiting identification. Both are also new records for Rwanda.
Reptile and Amphibian workshop in Akagera. Photos by Drew Bantlin
Interesting sightings of the last quarter
A Ruppell's vulture was sighted at Mutumba. This is the second sighting in two years after no sightings since 2008.
A herd of nearly 50 eland was sighted near Kilimbali. The herd included nine young calves. Another herd of eland has been seen consistently around Mohana Plain, also with many young calves.
Bushpigs have been seen multiple times in the swamps around Kilala, Gishami, and Nyungwe Gate.
The northern pride of lions has been confirmed to have nine new cubs.
Serval cat sightings have been increasing across the park, especially in Kilala Plain. Servals have become a common sight hunting around Kilala during night drives, and pairs of cats have been observed regularly. Sightings were also made near Valley Dam and Rwisirabo, and many photos of servals have been recorded by the Conservation and Research team's camera traps.
Bush Pigs, Common elands, serval cat, and lion cubs were among the interesting sightings of last quarter. Photos by Drew Bantlin
Civets sightings.
Following a number of reported sightings of an African civet on the main road between reception and the entry gate, a photo was captured on camera trap of the creature. The last confirmed sighting of an African civet in Akagera was 1993 and the recent resurgence of sightings and camera trap records is evidence of conservation working.
African Civet caught on camera trap in Akagera. Photo by Drew Bantlin
Surveys conducted by Akagera's Conservation and Research Department.
Leopard survey
A park-wide leopard survey is currently underway to better understand leopard abundance and density in Akagera. Findings of the survey will also inform estimations of home ranges, contribute to a database of leopard individuals, and answer questions about leopard ecology in the park. We will share updates once the survey and analyses are complete.
Ant survey
In collaboration with 
CoEB
 and ant experts from Africa and Europe, Akagera National Park hosted a week-long workshop for regional scientists to further understanding of ants, how to survey them, and taxonomy. As part of the workshop, an ant survey of the park was completed and species list created. Final species IDs are still being assigned and will be shared when ready.
Leopard and Ant surveys. Photos by Drew Bantlin.
Teachers Training.
Akagera Community team recently hosted 30 teachers from 10 schools in the Akagera region to attend a four-day training session held at Shakani campsite. The workshop-style training aims to re-energise the eco clubs in the schools, giving the teachers content, knowledge and ideas to manage and plan for the eco clubs' activities in the coming school year.
30 teachers from 10 schools attended a teacher training in Akagera. Photos by Fiston Ishimwe.
The tree planting season has started on 29th October 2022.
Akagera Community Centre nursery aims at propagating over 35,000 seedlings for planting in the communities around Akagera this year.  Most of the seedlings are made up of 10 indigenous species, the rests are fruit and agroforestry.  5000 indigenous trees have been planted in Kayonza town and the rest will be planted at schools where local community members and school children can help plant and care for the seedlings and learn about the importance of nature and the environment.
35,000 seedlings have been produced from Akagera"s Community Center tree nursery. Photos: Fiston Ishimwe
Conservation film show.
From 12 July the community team kick started the park's annual conservation film show season, with a planned 20 in total. Over 15,000 spectators in total are expected to attend the movie nights. The movie being shown is "Wetland and Climate Change" which is a movie edited by the community team and translated into Kinyarwanda. After the movie, discussions are held with the audience.