(Posted 25th July 2022)
Akagera News April-June 2022


© DREW BANTLIN

Hello friends, welcome to our second quarterly newsletter of 2022. 

Following the rains of March, April and May, the dry season has arrived; here comes the summer! And some exciting news from a dry and dusty Akagera.

The last quarter was filled with lots of great news. The Akagera has seen a number of white rhino calves born in the park since their introduction in November 2021. The white rhinos have also been fully released into the wider Akagera. We continued to have multiple sightings of a shoebill on the wetlands of Kilala Plains, and we are seeing tourism picking up to almost the same rate as before the pandemic. Community students also visited Akagera. Have a read below…


White rhinos have been fully released into the wilderness. 

Following their historic translocation to Akagera in November 2021, and months of close monitoring, the white rhinos have been fully released into the park. Upon arrival at the park, white rhinos were released into carefully-constructed and secure bomas where park management monitored them closely. In January 2022, seven weeks later, they were released into a larger enclosure where they have had to feed themselves, find water on their own, and have been able to interact with other species while still being under close monitoring. Dedicated rhino monitoring teams continue to track them on a daily basis to ensure their safety and observe the rhinos' health, behaviour, and sociality at each sighting. While the white rhinos are free and roaming in the plains of the park, it is important to note that they are still adapting to their new environment. Careful driving and leaving enough space between the car and the rhino will allow smooth and safe adaptation to tourism. Giving the rhinos space will also prevent additional tsetse flies from bothering the animals and will ensure their continued good health in the wild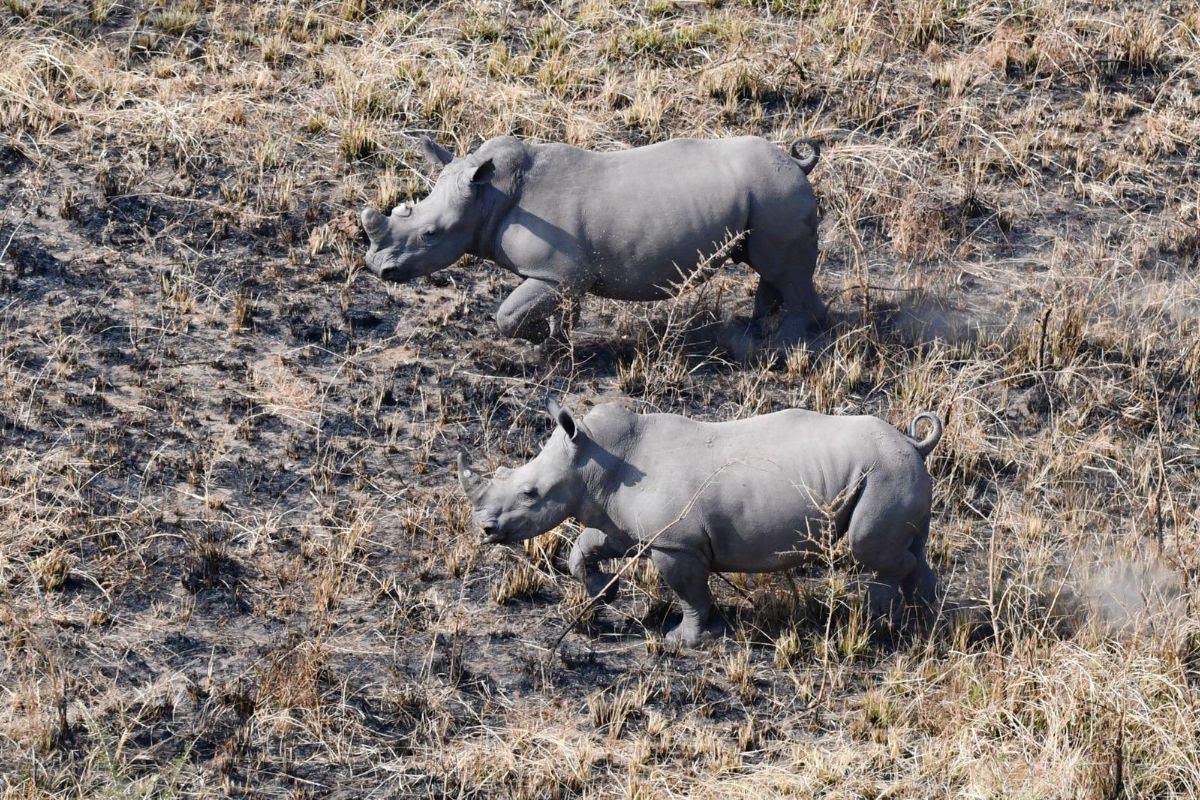 Nganzo and Nganji are two of the 30 white rhinos introduced to Akagera in November 2021. Photo credit: Drew Bantlin

June 2022 saw a record-breaking number of black rhino sightings by rhino trackers. 

In May 2022, Akagera celebrated the 5-year anniversary of the return of the black rhinos to Akagera National Park following a 10-year absence due to heavy poaching.  In June, the rhino tracking teams set a new record for black rhino sightings. They made 221 total black rhino sightings, the most of any single month we have ever had since their reintroduction in 2017. All black rhinos continue to be in great condition and secure. Five years after the reintroduction of black rhinos to Akagera by African Parks and the Rwanda Development Board (RDB), the population continues to thrive as a result of effective law enforcement and daily monitoring. In the last five years, we have seen a number of black rhino calves born in the park and we haven't lost a single rhino due to poaching.




Our rhino trackers made a record of 221 black rhino sightings in June. Photo credit: Drew Bantlin

Tourism Revenue Sharing Scheme.

Akagera Community Liaison Team joined Kayonza District officials to launch eight revenue-sharing scheme projects 2021 worth US $440,000 in the Kayonza district. The ceremonies were attended by the Eastern Province Governor and Kayonza District Mayor, among other local leaders.  Kayonza District Mayor John Bosco Nyemazi thanked Akagera National Park for its contribution to the development of the Kayonza community and called on the people to maintain the infrastructure they have built.

"We urge you to take care of them so that they don't get damaged." he said.
The revenue sharing scheme is a national policy whereby all national parks in Rwanda contribute 10% of the tourism revenue towards development projects in communities adjacent to the national parks. Since the formation of the Akagera Management Company in 2010, over US $2.7M has been contributed to the revenue sharing scheme projects such as building schools, providing clean water, multipurpose workshops, roads, and markets, among other projects, in the three districts that surround Akagera National Park.




The Launching of the Revenue Sharing Scheme projects in Kayonza district.

Refurbishments of Karenge and Ruzizi Tented Lodge.

As we continue to improve the services of Karenge Bush Camp, we have refurbished the camp's kitchen and upgraded the bathrooms at the camp from rustic toilets to flushing toilets. Since 1st May, guests at Karenge at Karenge Bush Camp can also participate in the white rhino tracking activity alongside our rangers. The terrace and wooden boardwalk at Ruzizi Tented Lodge were also refurbished. Karenge Bush Camp in the north and Ruzizi Tented Lodge in the south of the park make a great combination. Enter via the south, take a boat trip on Lake Ihema, and take a night drive and participate in the rhino tracking with the rangers and enjoy the early mornings and evenings at Karenge Bush Camp.




Karenge Bush Camp in the north and Ruzizi Tented Lodge in the south of the park make a great combination. Photos credit: Marion Vicenta Payr

The school children are back at Akagera National Park! 

As part of our community education program, this year we have invited 1300 students and 200 teachers from 55 schools in the community bordering Akagera National Park to visit the park. The student program allows us to instil a conservation mindset and emotional ownership of Akagera National Park. By starting with school children, future leaders and conservationists, we hope to build a strong foundation and appreciation for the park and conservation. Before entering the park, the children visit the Akagera Community Center. They sit for a short pre-visit written test to test their knowledge of the park and conservation; next, they pass through the savannah learning centre where they learn about the savannah food chain and the role that each component plays. They are encouraged and motivated to become future conservationists and are educated on how they can coexist with animals that are still outside the park. After visiting the savannah learning centre and understanding the dynamics of the savannah ecosystem, children embark on a full-day game drive within the park, guided by community freelance guides.




1317 school children and 200 teachers visited Akagera last quarter.

New Community Freelance Guides. 

We have welcomed 12 new members of the Community Freelance Guides (CFG) in Akagera National Park. These new faces join 22 existing members of the CFG who joined previously in 2014, 2015 and 2018. For the past 12 months they have received training from the park management, and from their fellow experienced guides before successfully passing the selection process to join as junior guides. They will continue to receive training, including from professional guides from across the continent.
For the past 8 years, this program has had a significant impact with the guide's cooperative earning almost US$ 700,000 to date from guiding visitors within the park. For many, the opportunity afforded a stepping stone into other segments of the tourism industry as they have progressed their careers.




New Community Freelance Guides.

African Pitta. 

Recent guests to Akagera have been lucky to sight the African pitta, an uncommon visitor to the park. African pittas migrate through Rwanda, between south-eastern Africa and the Congo Basin. Despite their bright colours, they can be difficult to spot as they prefer forested or dense habitats, and can sit motionless for long stretches of time. Multiple sightings of the individual pictured have been made around Mihindi Café in recent months. The younger bird is likely on its first migration from breeding areas in south-eastern Africa. This is the first sighting of the species in Akagera in quite a while and seems to be part of a general increase in pitta sightings across the country this year. While you are having your coffee or lunch at Mihindi Café, look around for the African pitta and other waterbirds that frequent the lakeshores of Mihindi Lake and its surroundings.




African Pitta in Akagera at Mihindi cafe. Photo credit: Drew Bantlin

Butterfly survey.

As part of Akagera's regular monitoring program, the Conservation and Research Department monitors butterflies at six permanent sites across the park. The monthly surveys are carried out by walking 1km transects at each site during sunny weather around midday. The survey team identifies all individual butterflies by species based on morphology, color patterns, and texture on the wings. Since the beginning of monitoring in 2021, the survey team has identified 154 species belonging to 65 genera. Nyamphalidae was the dominant family identified with 61 species. The monitoring site at park headquarters had the highest species richness with 52 species. The highest abundance (number of individuals) was recorded at Ruzizi and Birengero sites, with 819 and 760 individuals, respectively. The sites at Mihindi, Mutumba, and Nyungwe all varied in both species' richness and abundance from month to month. Species richness and abundance are influenced by habitat type, vegetation structure and food-plant availability, water availability, and elevation. Butterflies are a key indicator of environmental health, so long-term monitoring may inform park management about potential changes in habitat quality or climate should change in butterfly-species richness and abundance be detected. Monitoring will continue monthly going forward.




Since the beginning of butterfly monitoring in 2021, the survey team has identified 154 species in Akagera. Photo credit: Drew Bantlin

Internship programme in Akagera. 

The last quarter saw 12 interns from the community neighbouring the park joining different Akagera departments for professional internships. Some interns have already have been absorbed and granted permanent employment, while others continue to learn from different departments. Since the formation of Akagera Management Company, around 100 community members have benefited from professional internships in Akagera National Park. Some of them were retained and they are currently serving in the park while other found their feet in the tourism industry and other different sectors.

Wetland Science Fellowship. 

As part of capacity building, our Conservation and Research Assistant Diane Umutoni attended a month-long training that was provided by the African Center for Aquatic Research and Education (ACARE). ACARE created the program African Women in Science (AWIS), a 10-month program designed by women, for women, to support the interests, needs, and goals of early-career scientists working on Africa's freshwater issues. The objectives of Diane's US visit were to empower the next generation of Africa's female fisheries scientists and environmental researchers by providing perspectives and exposure to fisheries management and research activities, governance approaches, research facilities, and infrastructure in the Great Lakes region of the United States. Part of the fellowship also included networking opportunities between experts, especially women, to exchange information, mentorship, and enhance the overall freshwater scientific community.


 


Akagera's Diane Umutoni (second from left to right) during training in the US.

Fiston Ishimwe in Malawi. 

Between 17th March and 17th April, our Deputy Community Liaison Manager, Fiston Ishimwe was in Malawi where he visited various community development programs Majete wildlife Reserve, Nkhotakhota Wildlife Reserve and Liwonde National Park all managed by African Parks in partnership with the Government of Malawi. The aim of Fiston's trip to Malawi was to learn and exchange ideas with the teams about different techniques and approaches implemented in the communities surrounding Rwanda and Malawi parks.  Fiston came back to Akagera with a good package of lessons that he has started to share with the community team in Akagera. Many thanks to the Malawi team for taking good care of him.





Fiston in Malawi.

eDNA project. 

Akagera's Conservation and Research Department team facilitated and participated in a 10-day environmental DNA (eDNA) workshop that aimed to establish eDNA as a method for guiding the re-wilding of Akagera National Park. The workshop was conducted by trainers from the University of California, Los Angeles (UCLA), University of California Santa Cruz, Akagera National Park, and University of Rwanda (UR).  And it was attended by representatives of the University of Rwanda, Nangui Abrogoua University, Cote Ivoire, University of Parakou, Benin, Rwanda Forensics Lab, Dian Fossey Gorilla Fund, UR/Albertine Rift Conservation Society, Akagera NP, and Gorilla Doctors. The workshop objectives were to understand the current and historic composition of Akagera National Park biotic communities.  A major goal of the workshop was to equip participants with hands-on experience to understand the many uses of eDNA, and to better understand the process of collecting and analysing eDNA. Contemporary eDNA samples were collected from top-soil throughout the park, and more ancient eDNA was extracted from soil cores taken from the bottoms of three lakes. Participants collected eDNA samples, learned how to process the samples, and learned about the analysis process. Participants will have the opportunity to continue to work on data collected from Akagera and be a part of future publications on the findings.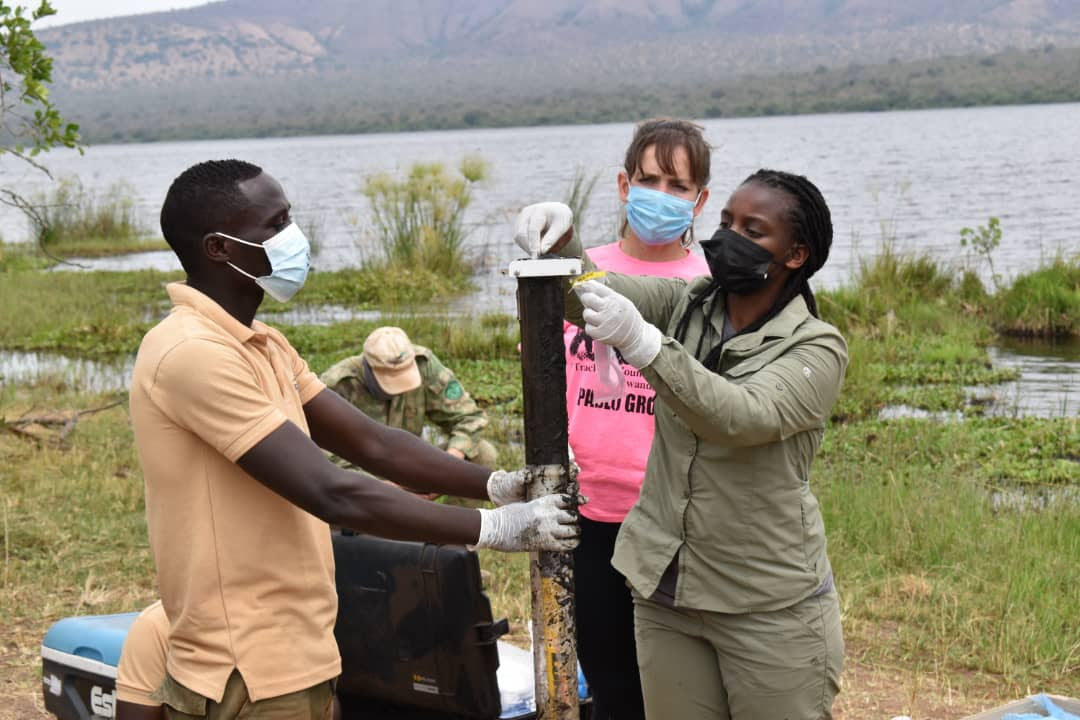 Adrien Nkundimana, Akagera's Research Technician (in khaki) along with other participants eDNA workshop.

COMING SOON: Walking Safaris in Akagera for residents in Rwanda.

This September, we are excited to invite you on an exclusive three-day walking safari in Akagera National Park, guided by Wayne Te Brake. Accessing areas far from the road, a walking safari brings you close to the intricate details of nature, while losing you in the vastness of Akagera's picturesque landscapes and the thrill of moving among iconic large mammals of the park.

Two departure dates available are September 17th to 20th and September 21st to 24th. The walking safari is restricted to a minimum of four (4) people for departure and a maximum of eight (8) participants. The deadline for confirmation is 15th August 2022.  

Click HERE to access the flyer with information, and for booking contact us by email

at akagera@africanparks.org


Walking safaris in Akagera. Photo credit: Jessi Flynn