(Posted 09th March 2023)
The Hon. Peninah Malonza OGW, the Kenya Cabinet Secretary (Minister) for Tourism, Wildlife and Heritage met with Alain St.Ange, the former Seychelles' Minister for Tourism, Aviation, Ports and Marine and present head of his Saint Ange Consultancy during ITB 2023.
This meeting at the Kenya Stand was done just as the Kenyan Minister was set to address the press on the key USPs of Kenya where she said 'Kenya is back'.
St.Ange told the press later that he discussed tourism and the region's importance in tourism during his meeting with Minister Peninah Malonza.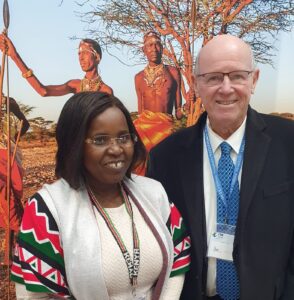 This is not the first meeting between the Kenyan Minister and Alain St.Ange. the two first met when she was the succesful Deputy Governor in Kenya and later again in Seychelles when Alain St.Ange was the island's Minister for Tourism, Civil Aviation, Ports and Marine.
"We always had a good working relationship and today was a great opportunity to reconnect" St.Ange said
Alain also met with the Hon. Edmund Bartlett, the Jamaican Minister of Tourism and they were both honoured at this year's ITB Tourism Trade Fair in Berlin.
It was at the PATWA International Travel Awards ITB, Berlin 2023 that the two tourism icons were honoured with their lifetime achievement awards.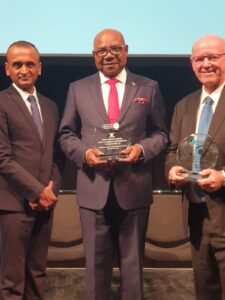 Both former Minister St.Ange of the Seychelles and Minister Edmund Bartlett of Jamaica were singled out for their successful lifelong journey in tourism and for their continued innovation in destination marketing and their ability to manouver on the world stage in the positioning of their respective countries as succesful tourism destination.
Former Minister St.Ange and Minister Bartlett were both congratulated for being recognised as World Tourism Leaders.
www.ATCNews.org also extends congratulations to both Alain St. Ange and Minister Bartlett on the occasion of being awarded such a recognition by PATWA.