#UGANDA'S AVIATION DAY GIVEN VALUE BY ST. ANGE'S KEYNOTE ADDRESS

(Posted 02nd December 2018)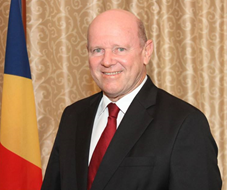 Alain St. Ange, the former Seychelles Minister for Tourism, Civil Aviation, Ports and Marine, has been confirmed as keynote speaker at the upcoming aviation stakeholder's meeting, which is taking place at the Kampala Serena Hotel and Conference Centre this coming Thursday.
St. Ange, a keynote speaker two years ago at the Pearl of Africa Travel Expo, is widely acknowledged to be the man who put Seychelles' tourism industry on the map with a relentless marketing and media juggernaut and who is according to many stakeholder voices in the Seychelles, dearly missed in that position.
St. Ange will speak in the context of this year's theme: 'Working together to ensure no country is left behind' and will be warmly welcomed by a number of aviation and tourism stakeholders who have worked with him in the past in his various capacities.
He has over the past years gained a high profile as a public speaker at tourism and aviation events across the world, especially since it was his brainchild to bring together the two sectors first and using available platforms to jointly develop a vision and plan for a sustainable future of both sectors working hand in hand.
He notably resigned his office to run for Secretary General of UNWTO and was a clear frontrunner in the contest, only to fall victim to the machinations of the Mugabe regime and his over ambitious tourism Minister Walter Mzembi, who used their African Union contacts in Addis Ababa to blackmail the Seychelles' government to withdraw their official support on the eve of the elections.
Mzembi, as was widely predicted at the time, lost in the second round of voting to current office holder Zurab Pololikashvili but with his Machiavellian machinations robbed Africa of the best chance to hold this office for the first time ever in the person of Alain St. Ange.
Mzembi is now facing criminal charges in Zimbabwe to where he eventually returned after first fleeing the country in the wake of Mugabe's overthrow.