(Posted 30th September 2022)
A'lure Hotel & Suites and Masheda Palms, two properties in Kampala previously managed directly by the owners, were earlier this year taken on by Aleph Hospitality for management.
After Aleph took over the management of the two properties did they appoint Mr. Aniket Gupta as Cluster General Manager, overseeing both hotels.
The company retained Ms. Ruth Nesta Kansiime as Marketing and Sales Cluster Manageress. Nesta is no stranger in the industry having previously worked with such companies as the Kampala Serena and the Athena Hotel, amongst others.
The Masheda Palms Hotel features 26 rooms and suites of various categories, including a Presidential Suite and offers guests an all day dining restaurant, the La Jadeite but also a more casual venue, the Pagolas.
Masheda Palms is a resort hotel located in Buyala Town off Mityana Road, 7km from the Kampala City Center.
The resort is ideal for family re-unions, club get togethers, birthday and other celebrations, corporate and private retreats, and notably 'me time' relaxation for being removed from the hustle and bustle of the city.
The Masheda Palms, pictured above, has as part of the new management's initiatives already introduced a new menu, while at the A'lure Hotel this change is in the final stages.
With some 39 rooms and suites does guest service remain personal and close up, attracting both repeat and new guests to the hotel. For guests there are two restaurants, an all day dining restaurant called 'The Residence' and an a la carte restaurant, the 'Le Palias'.
An outdoor swimming pool is also available for guests as are free WiFi, laundry and valet services, in room tea and coffee making facilities, flat screen TV's, room service, air conditioning and multi purpose adapters.
The A'lure Hotel is located in a leafy and tranquil residential area, located just 2 km from the Entebbe Express way, 3 km from the Pope Paul Memorial in Rubaga and 5 km from the Kabaka's Palace, with easy access into the city centre.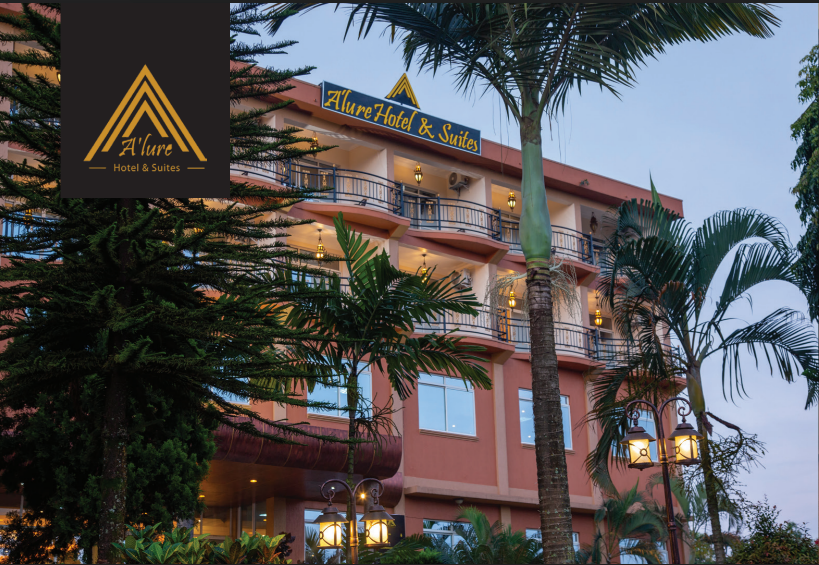 Both hotels have state of the art meeting rooms available for corporate meetings and conferences.
Both hotels are presently running a promotion on rooms vis a vis a 2+1 offer and the free night is redeemable within 60 days of check-out, i.e. does not have to be added to the main stay duration. This offer will close in November 2022, in other words is available for guests right now.
Following the two year COVID19 pandemic is it encouraging to see that in particular smaller and medium sized hotels are on the upswing again and that an internationally recognized hospitality management and development company like Aleph has chosen Uganda for the latest presence in African countries.
For additional information about Aleph are links to earlier articles shown below.