KENYA AIRWAYS' BUSINESS CLASS NAMED AFRICA'S BEST FOR THE THIRD TIME RUNNING
(Posted 22nd June 2015)


The just ended World Travel Awards ceremony for Africa, held at the Kempinski Seychelles Resort in Baie Lazare on the main island of Mahe, saw Kenya Airways scoop for the third time running the award for 'Best Business Class in Africa'. The airline beat four other contestants, Egypt Air, Royal Air Maroc, South African Airways and Ethiopian to the finishing line, and deservedly so going by this correspondent's own regular experiences when travelling with Kenya Airways in Business Class.
Said Mr. Mbuvi Ngunze, CEO and Group Managing Director of Kenya Airways, in response to receiving the trophy: 'We have been investing heavily in our product in a bid to improve the customers experience. This award, the third year in a row, is a testament of the investments that we have made in the past couple of years in terms of our aircrafts and the service we offer our customers'.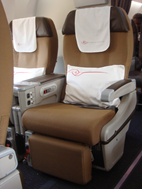 (The new 'lighter and brighter' look in Business Class on the more recently acquired B737-800NG's)
Indeed has the arrival of new aircraft over the past year and a half, all configured in a fresh new premium cabin look, the introduction of new crockery and linen for the on board meal service and a new revamped menu, available even on short regional sectors, added to the appeal KQ's front cabin already had for both frequent and occasional flyers.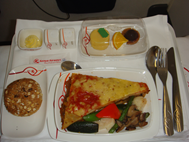 (A light meal as recently served on a flight from Nairobi to Livingstone / Zambia, featuring the new catering product line)
Combined with the move to Jomo Kenyatta International Airport's sparkling new Terminal 1A is the airline now in a position to offer, in the air as well as on the ground, a product which it can be proud of. Now operating seven B787 Dreamliners, two more are due for delivery in July and August, and having taken delivery of several brand new Boeing B737-800NG's with the fancied Boeing SkyInterior cabin – another one of these new birds will join the fleet in November this year – has in particular the medium and long haul inflight experience been lifted to such levels which made it possible to earn the Travel Oscar's top spot for the best business class in the African skies for the third time in a row.
This latest award will no doubt boost morale among the rank and file of Kenya's national airline, which in the recent past had to grapple with a series of challenges, when for instance flights to several West African destinations had to be suspended last year following a government directive after the Ebola outbreak. Crippling anti travel advisories against Kenya by former colonial masters Britain added to the airline' woes but were thankfully lifted last week, giving rise to hope that passenger numbers, in particular from KQ's European destinations London, Amsterdam and Paris, will begin to rise again.
Meanwhile though is it congratulations to Kenya Airways for bagging another Travel Oscar.