NEWS OF LION KILLINGS AND RENEWED ELEPHANT POACHING PILE PRESSURE ON KWS
The shock news yesterday, that 6 lions were killed outside the safety of the Nairobi National Park has brought not just the human wildlife conflict to the forefront again but also re-kindled the arguments between the conservation fraternity in Kenya and the Kenya Wildlife Service, the latter now accused to doing little if anything to prevent the killings or bring the perpetrators to book. What yesterday showed is that KWS seems afraid to wade in and use the law to bring the culprits to justice. They play big boys when they take the cheetahs from the Mara and bring them to Nairobi, ignoring all common sense and reason but when they are really supposed to show flag they back down. The reports on Twitter about the lions roaming outside were there, KWS was copied by several with pleas to act and what have they done other than collect the carcasses. And as you said, I still got to check that by the way but heard rumours yesterday afternoon, more elephant have been poached in Mt. Kenya and there also are allegations that they did not react to information given in a timely fashion. I personally find that KWS leadership lacks consistency and for sure the morals now. Let him [sic: meant to refer to
Dr. Julius Kipng?etich] come and arrest me too for disagreeing with him in public wrote an angry conservation source from Nairobi, whose identity though I prefer to keep anonymous to prevent him facing the same fate as the CEO of Eco-Tourism Kenya suffered some weeks ago. The poached elephants, four carcasses without tusks have been found in recent days near the Ndumanu / Mathira East location by local residents, constitute again a major loss for the elephant population and according to available reports from sources in Nanyuki KWS did not respond in a timely fashion to reports being filed by the local community, raising questions what process is involved to get them to act when only weeks ago they boasted to have installed a task force able to deal with such incident reports as a moments notice.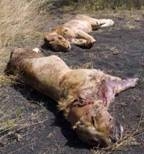 Dr. Paula Kahumbu, a respected and award winning conservation voice in Kenya, lamented in detail the fact of the lion killings and how it developed by giving time frames and all on the Facebook page of Kenyans for Wildlife, available via https://www.facebook.com/groups/kenyansforwildlife/ as did many of the groups over 8.000 members, while KWS, faced with massive dissent and opposition to their handling of the situation then published this statement, without however mentioning any arrests, a glaring omission as the culprits according to conservation sources are well known and have publicly boasted of their ill deed:
Kenya Wildlife Service
A total of six lions were last night speared to death by residents of Oloika area in Kitengela, Kajiado County.
The retaliatory killing of two adult lionesses, two sub adults and two cubs on the outskirts of Nairobi occurred after the carnivores had invaded a boma and killed four goats. Kenya Wildlife Service (KWS) rangers responded to a community report on the stray lions which had strayed from Nairobi National Park and spent the night with them dealing with the problem. The teams are still on site.
KWS dispatched rangers and a veterinary capture team to search for the lions. While the search was on, the lions were killed by the mob. Nairobi National Park is seasonal park and during rainy seasons, herbivores stray out of the park and lions pursue them. In the pursuit lions encounter livestock. While outside the park, the lions occasionally kill livestock from community bomas.
However, KWS works with community human wildlife conflict resolution committees and elders in ensuring that people and their property are protected from destruction by wildlife the same way wildlife is protected.
The killing is a big loss to the economy given that lions enjoy an iconic status as one of the Big Five which are a big draw for tourists who visit Kenya.
Kenya has been losing 100 lions a year for the past seven years, leaving the country with just 2000 of its famous big cats. This implies that the country could have no wild lions at all in 20 years. Conservationists have blamed habitat destruction, disease and conflict with humans for the lion population decline.
KWS would like to strongly discourage the public any killing of lions and other wildlife as this is criminal. Instead, communities should alert KWS officers nearest to them about any problem animals. Besides KWS offices spread across the country, the public can report to 24-hour hotlines 0728331981, 0736506052 and 0770296352.

While admittedly KWS does many good deeds and faces difficult operating conditions it must be said that such cases, too many in recent months to this correspondents taste, leave alone the conservation fraternity at large, would suggest that the leadership of KWS needs to come under the spotlight and should it be found lacking what it takes, changes may have to be made to then form a stronger, more focused and more inclusive partnership with the conservation fraternity at large. Will it have to come to that? Time will tell and so will this correspondent. Watch this space.