TRAINING AIRCRAFT CRASHES NEAR NAIROBI AS PILOTS CHEAT DEATH

(Posted 13th September 2016)

The series of crashes of helicopters and light aircraft in Kenya continued yesterday when a Cessna 152, registration 5Y-NNC and MSN 152-83020 crashed near Kibiku, not far from Nairobi.
The training aircraft owned and operated by Ninety Nines Flying School, which is based at Wilson Airport in Nairobi, had an instructor and a trainee pilot on board when it made what looks like a forced landing in a maize field, overturning in the process and coming to a stop upside down.
Both instructor and trainee were rushed to hospital according to reports received from Nairobi with unspecified injuries.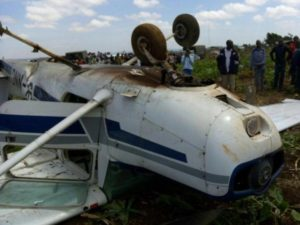 (Picture from Social Media)
The plane, which had taken off from Wilson Airport just minutes prior to the incident, suffered serious damage to the hull and wings and had the propeller ripped off on impact. From information received by a source at Wilson Airport does it appear that the aircraft developed an unspecified mechanical problem soon after being airborne and issued a radio message to the effect before going down.
Two helicopter crashes over the past weeks and the crash of a Cessna 210L Centurion last Thursday have rocked the aviation fraternity as once again questions are being asked on how effective the regulatory oversight is vis a vis aircraft maintenance, mandatory pilot re-training and related issues.
For breaking and regular aviation news from the wider Eastern African region look no further but this space.