(Posted 27th January 2023)
Are you one of our safety cheetahs?

We are building a movement of safety cheetahs, building on the cheetahs of Ghanaian professor George Ayittey. We need you as part of that movement of aviation professionals who believe in global aviation safety standards across Africa and are keen to play their part in achieving that. This quarterly newsletter is part of the Foundation's effort to support you in playing your part as a safety champion and raise the bar in safety.
Wednesday 1 February – upcoming episode of Focus Sessions
Focus Sessions are there to inform, inspire and entertain African aviation safety.
We give away a nice cash prize of US$ 100 in each episode -but those are only available during the live broadcast! ?
We'll be broadcasting a cutting-edge and free episode of the Focus Sessions on Wednesday the 1st of February.  This next episode will be all about psychological safety.

"About what???" I can hear some of you ask – it was also new for us at the Foundation. Psychological safety enables teams and organizations to learn and perform and is a significant organizational phenomenon due to the increased necessity of learning and innovation. It's all about creating an environment that encourages honesty and transparency, that allows bad news to be heard and acted upon. The retired head of planning for oil company Shell once said "The ability to learn faster than your competitor may be the only sustainable competitive advantage".

Join our panel to learn all about psychological safety: aviation wellbeing researcher Capt. Paul Cullen, humanitarian services specialist Otibho Agbareh & safety researcher Dr Robert Jan de Boer (author of Safety Leadership: A Different, Doable and Directed Approach to Operational Improvements) .

New intern joins ASPC-Rwanda
Shilla Uwera has joined the Aviation Safety Promotion Centre (ASPC) – Rwanda as a sales assistant intern. Shilla is studying applied mathematics at the host of the ASPC-Rwanda, the University of Rwanda. Shill is looking forward to entering the aviation industry through an entry-level role after her graduation. She will be working with the Foundation's marketing & sales manager Ada Aukje Engel. Want to know more about Shilla? Click her to visit her LinkedIn profile – part of the support of the Foundation in our interns' journeys into our industry.
VOUCHER
Dear safety champion,
Thank you for attending our events. This is how we show love! This discount code is valid for all March 2023 events until the 1st of February 2023
YOUR CODE BELOW
DISCOUNT10
Aeronautical Information Management
One of the least known but vital roles in support of international civil aviation is filled by the aeronautical information management (AIM) governed by ICAO Annex 15 & ICAO Doc 8126.
Yet, at the same time, AIM is often treated as a menial and less relevant profession with sometimes few personal development & training opportunities provided to the staff in AIM divisions. Click here to read more about Aeronautical Information.
March courses in Kigali & Nairobi
Let us help you recover your operations in the affordable way we always do! Join us in Kigali & Nairobi in March for an exciting range of courses. Use the voucher code below for your 10% discount until the 1st of February! You'll find the March courses here below.
Human Factors in Aviation
Learn how to recognize and utilize the human element of the system to move to safer operations, greater productivity and smoother implementation of technology. Only 5 places left!!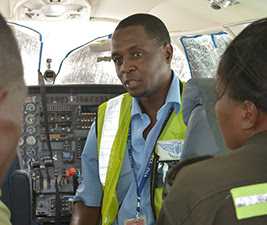 Leadership in aviation
World-class aviation safety is guided and supervised by managers and leaders. This course will help current and emerging leaders develop and mature interpersonal & leadership skills. More info including a testimonial via the button below Only 4 places left!!
Safety in the news
CANSO's Grobotek receives award for ATS Incident Analysis Group 
CANSO's director Tanja Grobotek received AFI Incident Group Analysis AIAG recognition in the form of a Scroll of Merit for her past contributions as former International Air Transport Association (IATA) AFI Director Safety and Flight Operations together with Chris Michalakis and Mike Jones, both previous AIAG Team Leaders from Delta Air Lines, "in recognition of valued and significant contributions to the AIAG process in the long past". It was a journey to improve the effectiveness of AFI Air Traffic Incident Analysis Group during her tenure with IATA Africa and achieve improvement of the investigation feedback rate from 23% (in 2005) to 88% (2018).
Innovative approach to mental health problems discussed at ICAO 
The Civil Aviation Safety Authority of Australia, backed by ICAO's head of aviation medicine, took a paper to the global aviation stage at the recent 41st session of the ICAO Assembly in Montreal, Canada. The paper presents a move away from seeing mental health as binary sick/not sick status to a continuum of well / less well / illness. Qualified peer workers who see someone every day, and work alongside them, can recognise changes in behaviour and unsafe practices more readily than a doctor who sees them once a year. The aviation medical profession has been talking about this issue for more than two decades and hopefully support is now building for a global approach aligned with ICAO standards that oblige industry to embrace preventative health measures. More about this proposal in the next edition of the Foundation's SafetyFocus magazine, going to print in February for distribution into  42 African countries.
Click here to read the full paper

In memoriam: Michel Trémaud, 1952-2022
Michel Trémaud, an Airbus engineer and safety specialist who held leadership positions at the airline and was a key figure in Flight Safety Foundation's campaign against approach and landing accidents, died in early October. He was 70.
Mr. Trémaud began work at Airbus in 1981 as a maintenance engineer and became the director of Flight Operations Standards in 1988. He held at number of positions at Airbus and retired as senior director and head of safety programs/initiatives. Earlier, his career included positions at Aerotour, Air Martinique and Bureau Veritas.
While at Airbus, he was a member of the International Advisory Committee of AviAssist's partner, the Flight Safety Foundation. Mr. Trémaud received an FSF President's Citation in 2001 for his role as an author of the briefing notes that formed the basis of the Foundation's Approach and Landing Accident Reduction (ALAR) Tool Kit, which was the culmination of Foundation-led efforts to identify causes of ALAs and controlled flight into terrain.
Do you want to honour a late (African) aviation safety cheetah? Send us information about their work. Articles are published at the editor's discretion.
Incident & accident reports
AviAssist likes to give praise to those African countries that publish incident and accident investigation reports. What better way of giving that praise than by allowing you to learn from their investigations? Have you got a report to share? Let us know and we'll let the world learn from your safety leadership! A good example is the below report from Botswana.

Botswana

Crash Robinson Raven 44 helicopter 2021 – Click to access final report

Want to learn more about incident investigation? Watch a recent Focus Sessions that was completely dedicated to that, with several tips for further reading too!
… as 2023 gathers pace, we have a small favour to ask.
A new year means new opportunities, and we're hoping this year gives rise to some much-needed stability, progress and safety. Whatever happens, AviAssist will be here, providing clarity and independent safety promotion for Africa, 365 days per year.

Times are tough, and we know not everyone is in a position to pay for safety promotion. But we rely on the ongoing generosity of those who can afford it. This vital support means thousand of aviation professionals can continue to get access to safety promotion shaping our industry. Will you invest in the AviAssist Foundation this year?

With your support, we'll continue to keep lots of our resources open and free for everyone to read.
Whether you give a little or a lot, your funding will power our work for the years to come. Click here to support the Foundation for as little as US$1 – it only takes a minute via our website. If you can, please consider becoming a Friend of AviAssist at US$50 per year. Thank you.
ATR Flight Safety Connection TV
Aircraft manufacturer ATR from Toulouse is a valued partner of the Foundation and currently chairs the Foundation's board. ATR Flight Safety Connection TV provides a summary of in-service feedback and associated flight safety recommendations. Its channels contains lessons valuable for ATR operators but also for pilots of other types of aircraft.
Leading, building and supporting effective and affordable safety promotion for the African aviation industry since 1995