BELGIUM TO SUFFER A NATIONAL STRIKE ON FEBRUARY 13TH

(Posted 08th February 2019)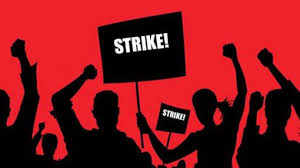 Belgium's notoriously militant unions are at it again, announcing a national strike day on the 13th of February.
This will severely affect transport services and airport handling services and as a result has Brussels Airlines taken the precaution to begin rebooking passengers scheduled to fly out of and into Brussels Airport on that day.
Said the airline in a just released statement:
Due to a day of industrial action across various stakeholders operating at Brussels Airport as part of a wider national strike in Belgium, Brussels Airlines expects major disruptions in its flight program of next Wednesday, February 13th.
Last week, the airline already cancelled 28 flights out of a total of 222 flights originally planned for February 13th and re-accommodated its passengers on other flights. With the information available today about the likely scale of the national strike, Brussels Airlines has decided to reduce its offer by additional 122 flights. In total, the airline cancels 68% of its flights originally planned that day, unfortunately impacting 11.288 passengers. This will allow its guests to adapt their travel plans well in advance and hence minimize the level of disruption and discomfort generated by the national strike for them as much as possible.
The airline offers in advance alternative travel solutions. Passengers with a cancelled flight who don't wish to travel anymore, can request a full refund of their ticket.
The list of all cancelled flights of February 13th is published on www.brusselsairlines.com
For rebookings, the airline kindly asks its guests to contact their travel agency or Brussels Airlines via:
the Brussels Airlines Service Center under +32 2 723 23 62
Facebook or Twitter
Refunds can be requested online on www.brusselsairlines.com/refund or via the passengers' travel agency.
Brussels Airlines apologizes for the inconveniences that are caused by external factors entirely beyond its control.
Passengers flying out of or into Kigali and Entebbe should contact the airline directly or their respective travel agencies for updates and the option to rebook onto flight dates not affected by the strike.
It was learned that staff at Brussels Airlines themselves plan to work on the day and not participate in the industrial action.