BERJAYA BEACH RESORT AND CASINO RESPONDS TO FIRE WITH PUBLIC STATEMENT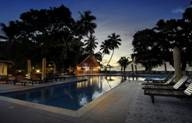 (Picture courtesy of Berjaya Hotels)
In a forthcoming development has Mr. Ken Choo, General Manager of the Berjaya Beau Vallon Bay Resort and Casino responded publicly to the fire incident at his hotel earlier in the week, providing information in a commendable fashion and explaining why full restoration of electricity supplies took a wee bit.
His statement is reproduced herebelow, also as a message to other hotels which in such times go into hiding or become incommunicado, so full compliments for the hotel and Mr. Choo in particular:
On Sunday January 22, 2012 approximately 10pm, an electrical cable breakdown triggered a short circuit in the Power Supply Control Room at our Resort.
One of our engineering staff saw smoke coming out of the Power Supply Control Room. Our Maintenance Engineer and Fire Department was informed immediately. Our engineering staff utilised 12 cylinders of dry powder to suppress the fire which was contained in the Power Supply Room.
Within a short time, the Fire Department rescue team arrived at our Resort and they managed to control and suppress the fire completely. We thank the Fire & Rescue department for taking swift action to contain the fire within the Power Supply Room within approximately 30 minutes and also help management staff to evacuate our guests to the respective fire assembly points.
A fire door helped contain the fire within the Power Supply Room. Because of the fire door and application of dry powder, the fire was contained within a small area. As such only dark smoke escaped from the Power Supply Room from the burned power cables.
The management of the hotel did not want to kick start the back-up generator as it was in close proximately to the power supply room. This is a precautionary step. As such the hotel was in darkness that night except for emergency lighting.
No staff and no hotel guests were injured or burned.
Only smoke from the power supply room came up to the 1st Floor and 2nd Floor main building corridors and as such, hotel staff went to each and every room to help evacuate guests to assembly points. All Berjaya hotel staff has been trained by the Seychelles Fire Department on fire safety for the last three months.
On Monday January 23, 2012, we restored all lights to all categories of rooms with power generators. We also restored lights in our Pizzeria kitchen and Main Kitchen with power generators. We also removed all perishable items from our chiller and our freezers to an off-site freeze container for food safety purposes.
On Tuesday January 24, 2012, we restored (with the help of power generators) water boiler and pump room power so all rooms has hot water.
On Wednesday January 25, 2012, we restored (with the help of power generators) power to air cons and power sockets in majority of our rooms. We also installed generator to power Main Kitchen and Pizzeria kitchen chiller and freezers and start full operations in our kitchens.
In the subsequent days, we shall in stages remove generator power supply and connect new power cables directly to the main PUC power supply in our panel. We shall then subsequently restore power to other public areas such as Casino, Silhouette Bar and Chinese restaurant.
Safety is our first priority and as such we are moving slowly to ensure power is restored in stages after full review of the cables, wires and fuses.
We have also hired electrical consultants to help us redesign a brand new main electrical main switchboard within the next 6 months. The electrical consultants have started work in drawings and planning already.
We wish to inform all our partners and patrons that our hotel is still operational, we still have guests staying at the resort and our food & beverage outlets are also open.
We thank the Fire Department, PUC, our many electrical contractors and consultants, DMCs, Tour Operators, Hotels and friends who helped us during this period. We also thank the authorities such as Fire Safety, STB, Health inspectors.
Ken Choo (Mr)
General Manager
Berjaya Beau Vallon Bay Resort & Casino