BLANKETS AND WINE MOVES TO CARNIVORE GROUNDS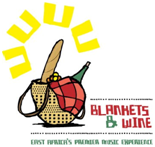 Kenya's premier monthly music and social event, Blankets and Wine, will with the February 03rd edition for the first time move to the popular Carnivore grounds in Nairobi, having burst at the seams at the previous location as a result of its growing popularity.
Blankets and Wine is every month showcasing new and upcoming young musicians but also crowd pulling stars from Kenya's vibrant music scene, entertaining visitors with nontop performances. Normally held every first Saturday of the month, the event is open from 1 p.m. to 7 p.m. and many families have made B&W a family outing, bringing the kids along for a picnic out or enjoying the food available from professional caterers.
This weekend will see the 41st edition of the event in Kenya, which has since also spread to Kampala / Uganda where it is still in its nascent stages though also enjoying growing popularity already.
For anyone this weekend in Nairobi, all roads will lead to the Carnivore grounds for a fun and music filled afternoon. Hotel concierges will be happy to make arrangements for visitors from abroad and the cost of admission is Kenya Shillings 2.000 per person – children enter at a rate of 500 KShs – or about US Dollars 25 in hard currency equivalent.
For updates on Kenya's events scene and sports, social, art, music and other performing arts happenings, subscribe to www.kenyabuzz.com for a free weekly mailing containing literally all there is to know for visitors to the country.