Updated version as of 12.14 hrs EAT
(Posted 06th November 2022)
According to reports coming in from aviation sources in Tanzania has a Precision Air turboprop ATR 42-500, registration 5H-PW5, MSN  819, crashed into Lake Victoria after a failed attempt to land in the lakeside town of Bukoba (Western shores of Lake Victoria). The aircraft entered service brand new in 2010 and has been part of a substantial ATR fleet Precision Air operates across Tanzania, into Zanzibar and regional destinations.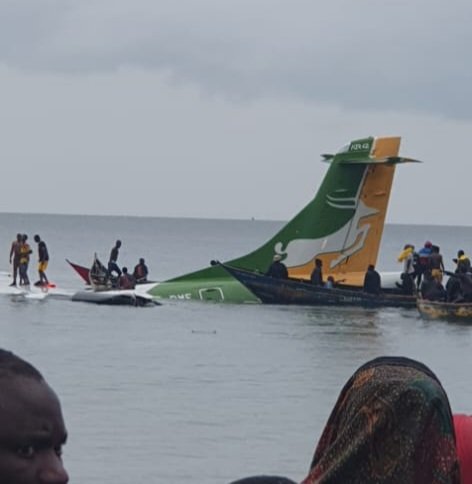 (Twitter picture courtesy of @tonyanelka)
The aircraft, as seen above, is by and large submerged and Tanzanian authorities immediately dispatched rescue boats to search for and rescue passengers and crew on board.
According to some reports, 53 people were on board the aircraft, including 4 crew members.
For aviation sources in Mwanza and Dar es Salaam was it also learned that the flight, PW 494 came from the commercial capital of Tanzania, Dar es Salaam.
The weather on landing was decribed as heavy rains and low clouds, perhaps a contributing factor why the aircraft overshot the runway and ended up in the lake.
By the time of uploading the article were some 23 passengers reported rescued and the search operation continues to bring other survivors safely to shore.
An air accident investigation is going underway to establish the cause of the crash.
www.ATCNews.org will continue to monitor the situation and file updated reports when added information becomes available.
Meanwhile has the airline already issued an initial statement which reads as follows:
RELEASE -1
06.11.2022..Precision flight no PW 494, flying from Dar es Salaam to Bukoba has been involved
in an accident as it was approaching Bukoba Airport. The rescue Team has been dispatched to the
scene and more information will be released in 2 hours' time.