(Posted 28th January 2022)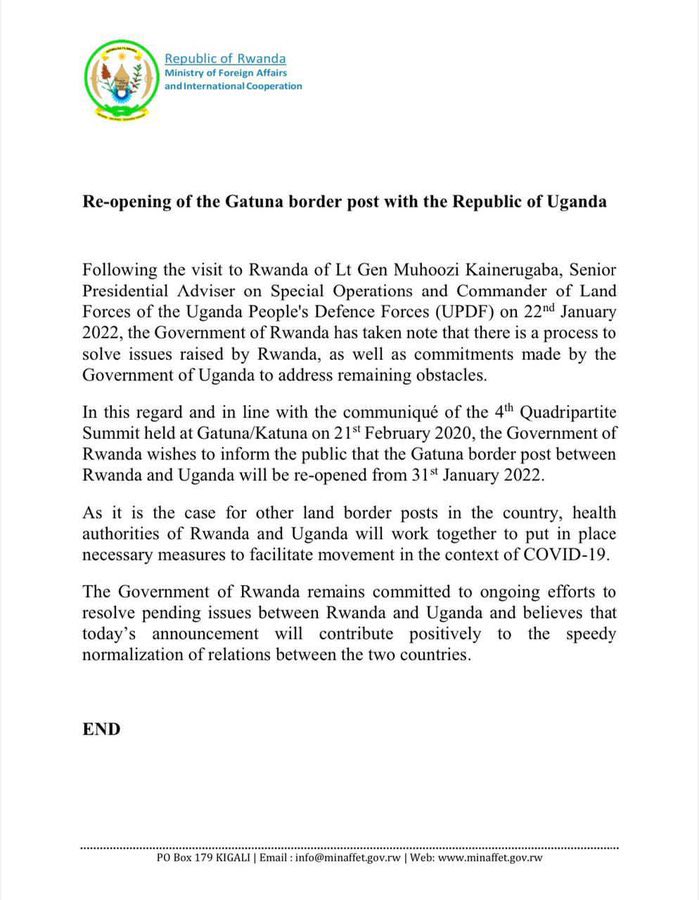 Following the visit of 'First Son' Lt. Gen. Muhoozi Kainerugaba to President Paul Kagame, a man he called 'Uncle Paul' in social media comments, have the two countries agreed to finally opening their common land borders, most important the border post at Gatuna which is the main land border between the two East African nations.
The closure has caused tourist traffic to come to a near standstill between the two countries, as only air connections between Entebbe and Kigali were maintained – only RwandAir is presently service the route as Uganda Airlines is still in the process of restoring their pre-pandemic network to the full extent.
The border posts on both sides of Gatuna are now beeing 'repopulated' with officials on the double, as the envisaged restoration of traffic will take place on the 31st of January, i.e. three days from now.
Tourism sources from both countries have told www.ATCNews.org that this measure will hopefully attract additional tourists to the region, who can use the common East African tourist visa which allows access to Rwanda, Uganda and Kenya at a present cost of justs 100 US Dollars. This Visa should be applied for in advance of travel by those visitors intent to visit two or more of the three countries.
Health protocols will be in place for travelers crossing the borders, as is the case with for instance the land borders with Kenya at Busia and Malaba and the same measures will be in place in Gatuna.
Long distance bus operators from Kenya, but also bus companies from Uganda – and from Kigali into the other direction – are also said to gear up again for regular services covering the East African countries.
On the Ugandan side have extensive roadworks along the route from Kampala via Mbarara to Kabale and the border made travel smoother and hotspots on the Gatuna to Kigali road too have over the past two years seen extensive repairs, maintenance and upgrades.
ATCNews commends President Paul Kagame and President Yoweri Museveni – represented in the Kigali meeting by his son Muhoozi, for their wise decision to overcome past disagreements and challenges and restore road traffic in the best interest of the people of both countries and the wider region.