BRUSSELS AIRLINES REACT TO COMPETITION BY ADDING FOURTH FLIGHT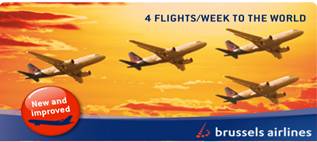 The arrival in Uganda of more recent competition in form of Qatar Airways, now also flying to Kigali / Rwanda, i.e. into two destinations where SN has been having a strong client base, has undoubtedly spurred a review of operations and commitment to these important markets for Brussels Airlines and resulted in a fourth flight being re-introduced on the route. Effective immediately SN is now serving Kigali and Entebbe in a triangular operation every Tuesday, Thursday, Friday and Saturday. A senior staff in Kampala said: with an additional frequency we also hope for more travellers underscoring SNs ambition to fight back, as incidentally other main European carriers have indicated they intend to do like KLM and BA, the latter also only last week announcing more flights to Entebbe.
SN has also cranked up their efforts to promote their upcoming daily flights from Brussels to JFK in New York from June this year onwards, which will run alongside their codeshared services with Star Alliance partners, offering travelers from Uganda and Rwanda a one stop solution with the shortest possible access route via Europe.
Further increases in frequencies have for the time being though been ruled out according to a source in Brussels until more long haul A330 aircraft have come to join the fleet of Brussels Airlines, something many friends of the Savoir Vivre are looking forward to. Watch this space.