NEW DESTINATIONS AND NEW OWNERS FOR BRUSSELS AIRLINES IN 2017

(Posted 30th September 2016)
Come 31st of March 2017 will Armenia's capital city of Yerewan be added to the list of Brussels Airlines destinations, offering for the first time a connection between Belgium and the European Capital city of Brussels with this Caucasus nation.
Flights will operate once a week on Fridays though during July and August, the peak travelling season, a second flight on Tuesday will be on offer.
The route will be served by an Airbus A320, leaving Brussels in the evening at 21.25 hrs reaching Yerewan at 03.55 hrs and then return to Brussels at 07.45 hrs the same morning.
These flights will connect seamlessly with a range of European destinations while travelers from Eastern Africa, i.e. Uganda and Rwanda, will have a 15 hour wait in Brussels outbound though on the return flight is a more or less instant connectivity available.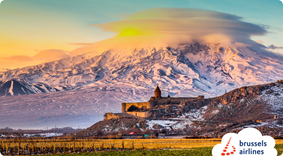 In a related development was it also confirmed that the Lufthansa Supervisory Board has sanctioned the acquisition of the remaining 55 percent shares of Brussels Airlines in early 2017, after holding a 45 percent strategic share for several years now.
The faithful travelers of Brussels Airlines, from Eastern and Western Africa, across Europe and of course from Belgium and beyond in Europe expect the brand identity and service levels of Brussels Airlines to be fully maintained similar to Lufthansa's other European partners like Austrian and Swiss.
Integrating Brussels Airlines into the low cost concept of Eurowings as was suggested some time ago by Lufthansa's top management is clearly not an option for the fans of 'Savoir Vivre', something best taken to heart in the corporate headquarters of the Lufthansa Group in Germany.