(Posted 12th April 2022)
Time spent with family, is time well spent – even more so when it concerns travel! 
Book now until 15/04/22 and explore Europe with your little ones at the most attractive price, with a discount of 100%* on the net fare for all children between 2 and 11 years old.

Travel until 17/06/22
or between 03/09/22 and 30/11/22.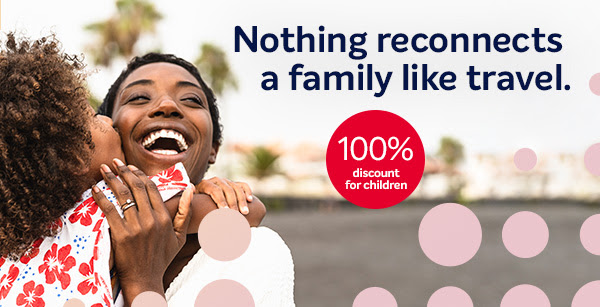 *Offer is valid for bookings on all Brussels Airlines flights to Europe in Economy Class and Premium Economy Class, departing from Angola, Benin, Sierra Leone, Liberia, Rwanda, Uganda, Ghana, Ivory Coast, Togo, D.R. Congo, Cameroon, Gambia, Senegal.
The 100% discount applies to the net fare only (excluding taxes and fees). There should be a minimum of one adult and one child traveling together in order to benefit from this promotion.
This offer may not be available on all flights.