BRUSSELS AIRLINES' 'LOOP' LOYALTY PROGRAMME GETS BETTER

(Posted 09th November 2018)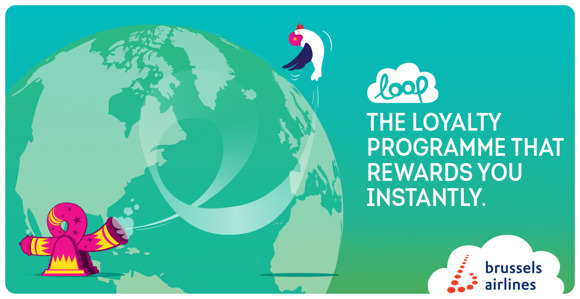 Brussels Airlines adds new features to its loyalty program LOOP, designed for the increasing number of customers that flies with Brussels Airlines. From now on passengers can also earn LOOPs on long haul flights and spend them immediately on their next Brussels Airlines operated flight.
Brussels Airlines developed LOOP in 2015 as an addition to the existing Miles & More program, to offer its customers more advantages, faster.
LOOP broke with the conventions of the traditional frequent flyer programs and offers Brussels Airlines guests who do not fly frequently a simple, transparent and generous loyalty program.
For each euro spent on Brussels Airlines flights (excluding airport taxes), members receive three LOOPs that they can now immediately spend on any flight, without restrictions, whereas before a minimum of 5 flights was required to be able to spend earned LOOPs. Besides this, members now have the possibility to earn LOOPs on all Brussels Airlines operated flights.
Up to five family members, living under the same roof can collect LOOPs together, in order to have access to a free flight even sooner.
For more flexibility, LOOPS can always be combined with cash payment for the purchase of tickets. In LOOP, there are no status levels, nor a membership card – everything happens online at www.loop.be.
Customers can simultaneously be members of Miles & More and LOOP, but they do need to choose whether they want to earn LOOPs or Miles & More miles for a particular flight. LOOPs never expire, as long as the participant flies once a year with Brussels Airlines.
In Eastern Africa does Brussels Airlines operated daily flights between the European capital Brussels and Entebbe / Uganda routing six times a week via Kigali / Rwanda and once a week via Bujumbura / Burundi. In all three countries has the airline built a huge following over the years of uninterrupted service, first by SABENA, followed by SN Brussels before being rebranded into Brussels Airlines.
The airline connects the European capital with over 100 destinations in Europe, North America and Africa, the continent Brussels Airlines considers its second home. The company has 52 aircraft operating some 250 flights daily, flying more than 9 million passengers a year to, via and from Brussels Airport. With yearly changing Belgian Star Chefs, its wide offer of Belgian food and drinks and the five Belgian Icons, Brussels Airlines is an ambassador of its country, bringing the world to Belgium and the best of Belgium to the world.
Next week will Brussels Airlines be a key partner in Uganda for the Royal Belgian Embassy when the diplomatic mission celebrates 20 years of having established a direct embassy in Uganda while two weeks from now will Brussels Airlines fly in a consignment of the new Beaujolais French wine to allow Uganda celebrate with the rest of the world, partnering with the French Embassy on the occasion.