THREE GIFT CARDS OPEN UP THE BRUSSELS AIRLINES NETWORK

(Posted 27th November 2018)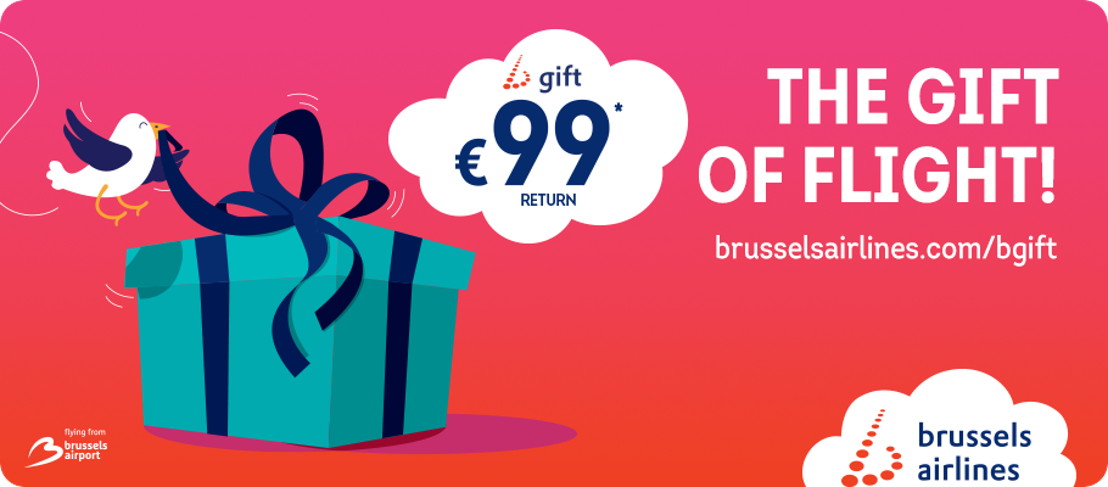 This year again, Brussels Airlines launches its b.gift, a flight gift-card to put under the Christmas tree. The airline launches a gift-card, giving you the possibility to offer your loved ones a city break, a sunny holiday or the chance to discover America. And there is something in it for the giver too, as they receive up to 1,200 LOOPs when they buy the original Christmas present.
The winter holidays are traditionally a moment when many people book their next sunny vacation or city break. During this holiday period, Brussels Airlines launches again its popular b.gift, a flight gift-card to put under the Christmas tree for a loved one or simply for yourself. As from today, until 2 January 2019 gift-cards are for sale on brusselsairlines.com/b.gift offering flights to 51 destinations. A gift-card containing 1b.gift (99€) offers an all-in flight ticket towards 37 European City destinations*, while a gift-card containing 2 b.gifts (198€) offers you the choice between 11 sun destinations* and a gift-card containing 4 b.gifts (396€) gives you the opportunity to discover the wonderful cities of New York, Toronto or Washington D.C. Moreover, there is something in it for the ones who offer a b.gift too, as they receive LOOPs for every b.gift they buy.
There is presently no card covering the airline's African destinations or Tel Aviv.
B.gift receivers can book their flight online (brusselsairlines.com/flywithbgift) with their gift-card from 7 January until 1 March 2019, and fly between 17 January and 17 June 2019.
More information on brusselsairlines.com/b.gift
*The b.gift destinations:
Our 37 "City" destinations
Barcelona, Basel, Berlin, Bilbao, Billund, Birmingham, Bologna, Bordeaux, Budapest, Copenhagen, Edinburgh, Geneva, Gothenburg, Hamburg, Hannover, Kiev, Krakow, London, Lyon, Madrid, Manchester, Marseille, Milan Linate, Milan Malpensa, Nantes, Nice, Oslo, Prague, Rome, Stockholm, Toulouse, Turin, Venice, Vienna, Vilnius, Warsaw, Zagreb.
Our 11 "Sun" destinations
Alicante, Faro, Florence, Las Palmas*, Lanzarote*, Lisbon, Malaga, Naples, Porto, Sevilla, Tenerife*.
*only available from 17/01/2019 to 31/03/2019.
Our 3 "America" destinations
New York, Toronto or Washington D.C.
Brussels Airlines flies daily between the European capital and #Entebbe / #Uganda, with one of these flights routing via #Bujumbura / #Burundi and the remaining six services routing via #Kigali / #Rwanda.