13.4 PERCENT PASSENGER GROWTH IN MARCH SHOWS BRUSSELS AIRLINES IS ON THE RIGHT TRACK

(Posted 12th April 2018)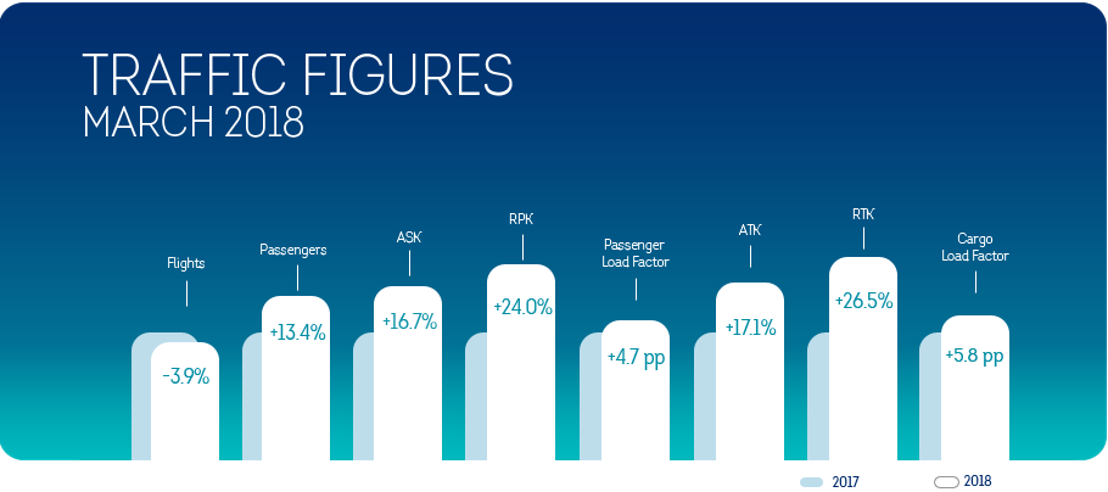 In March this year did 778,175 passengers board a Brussels Airlines flight. This figure represents a 13.4% increase compared to the same month last year.
Passenger growth was recorded across the entire network, leading to a 4.7 percentage point increase of the seat load factor.
Brussels Airlines closes March with growth. On board of the 6,390 flights that were operated during the past month, Brussels Airlines welcomed 778,175 passengers, or 91,876 more than in March 2017. The largest growth was recorded on the North American (+28.1%) and African sectors (+18.1%), followed by the European network (+10.8%) and the Middle East (+5.6%). The Asian growth is due to the fact that Brussels Airlines' Mumbai route was opened on 30 March 2017 (comparison of 2 days of operations last year versus an entire month this year). On the European network the growth was mainly achieved thanks to the Thomas Cook Airlines Belgium activities that were integrated last October.
The passenger growth led to an increase of the seat load factor by 4.7 percentage points, bringing the average seat load factor to 79.5%. It was also a very strong month for Brussels Airlines Cargo. The cargo load factor grew by 5.8 percentage points to 75.2%. The freight volumes transported in the belly of Brussels Airlines' passenger flights increased by 43%, a significant growth that is partly due to the opening of the Mumbai route.
Compared to March last year, Brussels Airlines operated 3.9% less flights. Nevertheless the airline was able to increase its growth rate. This is the result of the replacement of the last AVRO jets (100 seats) by Airbus aircraft with a greater capacity (180 seats). Thanks to its increased offer, Brussels Airlines was able to continue to propose competitive fares and attract even more customers. This means, however, that the pressure on airline ticket prices remains very high.
The statistics below do not include the passengers on board of charter flights Brussels Airlines operates on behalf of tour operators.
Month
Month
VLY difference
mar18
mar17
Flights
6,390
6,650
-3.9%
Total Passengers
778,175
686,299
13.4%
— Passengers Europe
632,445
570,678
10.8%
— Passengers Africa
94,059
79,643
18.1%
— Passengers North America
24,817
19,368
28.1%
— Passengers Middle East
16,775
15,881
5.6%
— Passengers Asia
10,079
729
1282.6%
Available seat-kilometers  (ASK)
1,661,714,583
1,423,890,745
16.7%
Revenue Passenger-Kilometers  (RPK)
1,320,531,121
1,064,760,834
24.0%
Passenger Load Factor (%)
79.5%
74.8%
4.7%pt
Available Ton-Kilometers (ATK)   
197,312
168,453
17.1%
Revenue Ton-Kilometers  (RTK)
155,970
123,253
26.5%
Cargo Load Factor (%)
75.2%
69.4%
5.8%pt
These results are based on figures currently available
In Eastern Africa does Brussels Airlines serve Entebbe / Uganda with daily flights, six of which route via Kigali / Rwanda with the remaining service operating via Bujumbura / Burundi, using an Airbus A330 configured with Business Class, Economy Privilege and Economy.