TRAVEL AND CARGO AGENTS REMAIN IMPORTANT TO BRUSSELS AIRLINES TO FILL THEIR DAILY FLIGHTS

(Posted 28th April 2018)

(Brussels Airlines Uganda Country Manager Geert Lemmen seen here with agents)
Brussels Airlines, flying daily between Entebbe and the European capital of Brussels, has for long been the number one choice of many Ugandan travelers – leave alone passengers coming to Uganda – when it comes to direct flights to Europe without detouring thousands of miles through distant hub airports.
The airline's Airbus A330, configured with Business, Economy Privilege and Economy classes, besides passengers also uplifts several tons of Uganda's exports to Europe and beyond, providing overseas markets with chilled fish fillets, flowers, fruits and vegetables.
Earlier in the week did the airline recognize the work done by travel agents and cargo agents to keep the planes filled when Geert Lemmen and his team awarded and recognized their strongest supporters.
Later this year, when the operating leases for the A330 fleet begin to expire, will brand new Airbus A330's join the fleet with an innovative new cabin product while retaining the warm and hospitable service in the air, often described here a 'Savoir Vivre'.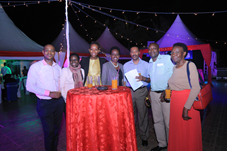 (Brussels Airlines Uganda staff members seen at the function)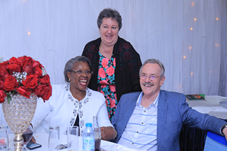 (Let's Go Travel – one of Uganda's leading travel agents – give Brussels Airlines their biggest smiles)
Brussels Airlines has since operations launched 16 years ago, been a steadfast supporter of the Ugandan tourism industry, bringing tour operators from abroad to sample Uganda's tourism offerings while also offering reduced fare tickets to the Ugandan tourism fraternity when going abroad to promote the country. Towards that end was the airline several times recognized by the Uganda Tourism Board and received awards as best supportive carrier from a number of organizations.