#UGANDA'S BARE FOOT PARADISE – OWN A SLICE OF IT

(Posted 14th December 2018)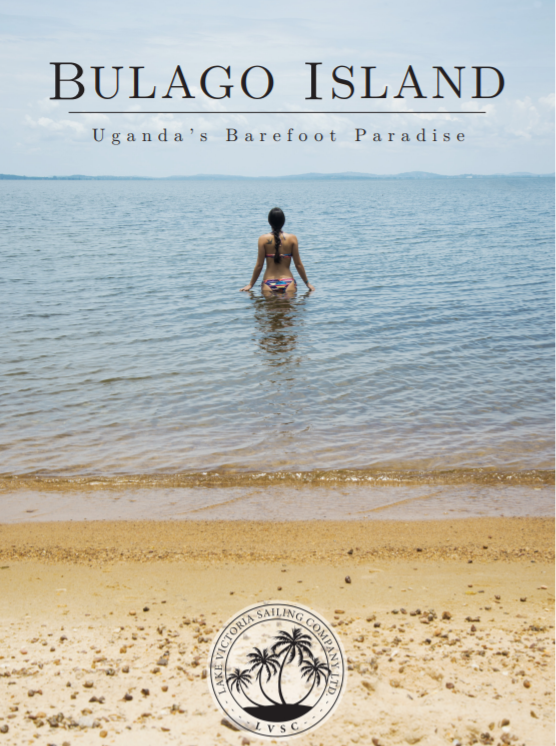 If you got some spare cash, and of course more than jsut small change, and have ever dreamed of owning a property on a tropical island, here is an extraordinary opportunity to accomplish just that.
I guess after this opening paragraph, Google will see an onslaught of 'Bulago' in their searches but before you go there, read on to learn a bit more about what Bulago Island is all about and what is on offer:
Golden Sandy Beaches
and
An Unparalleled Location
Bulago Island is definitely the most perfectly located island out of all the 63 Ssese islands that make up the Koome archipelago. Bulago Island is just 24 kilometres from Entebbe International Airport and within 30 kilometres of the lakeside conference resort of Munyonyo and Uganda's capital city, Kampala.
Bulago is an ideal getaway location for weekend tourists visiting from the city or for international tourists arriving at Entebbe airport and of course for permanent residents who wish to live there and enjoy life at its best, in retirement or well ahead of it already.
At 3,750 feet above sea level, the island is blessed with a modified equatorial climate sporting daytime temperatures averaging around 25 degrees.
Bulago is a 500-acre tropical island, one mile south of the Equator and at the heart of Lake Victoria's Koome Archipelago and of most surprise, in land-locked Uganda, the majority of the lakeshores are comprised of golden sandy beaches.
The Lake Victoria Sailing Company Ltd. (LVSC), (owned by H.R.H. The Kabaka and Alison Porteous, a British Ugandan), has been developing the island for nearly 20 years, campaigning for the now gazetted Lacustrine Protected
Area (LPA) to safeguard the natural environment and boost declining fish stocks.
LVSC has turned this tropical, equatorial island into a barefoot paradise getaway. Bulago Island is now the only inhabited island inside the 200 square kilometre LPA with established infrastructure, security and tourism. LVSC built
the lodge in 1999, now known as Pineapple Bay Resort, in the tranquil northern bay and then begun selling beach plots with leasehold Titles.
This spectacular island is teeming with wildlife, with its vast savannah and dense equatorial forest attracting a dazzling array of bird species, colourful insects, reptiles and mammals. In partnership with UWA, LVSC seeks to
"rewild" the island with Zebra, Kobb and Sitatunga antelope, to further enrich this already abundant and unique ecosystem.

Uganda's Riviera
Bulago Island now has a community of around 100 residents, who offer villa and
holiday home rentals including the stunning One Minute South villa providing the perfect island getaway for parties, workshops, retreats and weddings.
The residents have set up the Bulago Island Club (BIC) to maintain the island's
infrastructure with well-maintained trails, paths, jetties, moorings and viewing points.
Security is maintained by the resident Marine Police detach. Non-organic rubbishis collected and Kuokoa is establishing a plastic recycling programme.
With the support of new government fishery regulations and the UPDF's initiative to stop illegal fishing,
LVSC, through their conservation partner, Kuokoa has been implementing a community-led initiative, whereby the fishermen manage and help to secure their own fisheries. A flourishing fish reserve will potentially create tourism/hospitality spin-offs, including opportunities for sports fishing, which in turn will create alternative livelihoods for the fishermen.
Where are plots for sale or lease: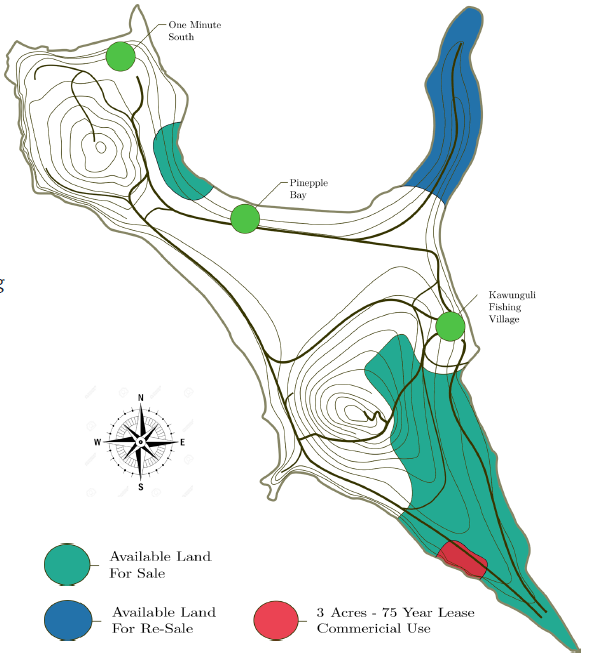 If anyone is in a rush to give a truly remarkable 'gift' to a loved one or just want to indulge her or himself, get in touch with Alison on the double and you might just get a Letter of Intent in time to put it under the Christmas tree …