BURUNDI'S TOURISM FUTURE HANGS IN THE BALANCE
(Posted 04th March 2015)

As ITB 2015 kicks off today in Berlin, will regular visitors to the Africa halls notice that Burundi, the smallest economy in East Africa and the least developed tourism country in the region, will be absent.
Efforts to have individuals go on record about the recent introduction of Visa in Advance and the anticipated fallout vis a vis tourist numbers coming in from say Nairobi, Entebbe or Kigali on an add on package, have failed to produce any tangible results. There were many rants and outbursts of anger but no one in authority has since the announcement spoken up, not on the record anyway.
It is therefore with some satisfaction that the immediate former Director General of the Burundi Tourism Office, Ms. Carmen Nibigira, has now gone on record to share her thoughts about tourism to Burundi in general and the Visa issue in particular.
Here are her thoughts:
Start quote:
Wildlife Conservation and Tourism Matter in Burundi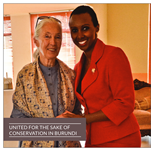 In Febuary 2015, Dr Jane Goodall once again visited Burundi. Her work over the past five decades in the conservation of chimpanzees in the Gombe National Park in Tanzania is remarkable. She has been visiting Burundi since 2013.
And I pose the question. Why does her visit matter to Burundi, specifically for our wildlife conservation and tourism sectors?
I had the privilege to travel with her on a visit to Kibira National Park last year and witnessed first-hand her passion and commitment to protect wildlife. She taught me that conservation of our heritage and wildlife is everyone's responsibility. Together, we visited the Batwa community living around the park. They know the secret of the park more than anyone, and they still depend on the forest for their survival. We discussed the dilemma of maintaining the ecosystem's health and human well-being in developing countries and how tourism can be used as a mechanism to achieve development and conservation goals.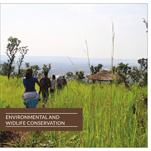 There are many challenges we are facing in Burundi, and conservation of wildlife is a very complex issue that demands our attention. We cannot talk about tourism and wildlife conservation in a country where most of our protected areas are still threatened by forest resource dependent human livelihoods. In addition, the demographic pressures of overpopulation are having an equally devastating effect on these resources. We need to grasp that if we continue at this rate of deforestation, we will continue to loose our important heritage. This is of grave concern because our future is at risk. For example, the capacity for our forests to generate rain helps to produce energy at Rwegura hydropower center in Kibira National Park. Without the rain we can forget about energy and expect dire consequences to other productive systems that can plunge our entire economy.
We need to look at the intrinsic value of our parks and manage the challenges they face each day. Is this the role of the government? I say yes. However, as citizens, and borrowing from Dr. Goodall's experience, we have individual responsibility as citizens to act as agents of change. The time to act is NOW!
Tourism provides us with unique opportunities and possibilities to maintain the ecosystem health and the wellbeing of our citizens. For example, tourism has potential to enable local communities around the park in creating jobs and have alternative livelihoods. This is not an untested formula because it has worked elsewhere.
Visa on arrival, a more progressive approach!
This month the UNWTO (United Nations World Tourism Organization) stated that governments should do more to improve visa facilitation of tourist visas. In the past four years, many East African countries moved forward to review and/or harmonize their tourist visa policies. Tourist visa facilitation has potential to stimulate economic growth and job creation through growth of tourist arrivals.
According to Taleb Rifai, the UNWTO Secretary-General, there is much room for improvement. He goes on to say: "We are pleased to see that a growing number of governments around the world are taking decisive steps in this regard."
With a forecast of 1.8 billion tourists by 2030, the UNWTO is sending a strong message to tourism destinations across the world to adopt policies that will enhance growth of tourism to their destinations. The organization is encouraging countries to be open to visitors and tourists, to facilitate visa regulations, and to streamline policies in order to benefit from the tourism sector.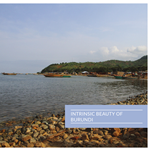 In emerging economies, we are witnessing the emergence of new tourism source markets. China, Brazil, India and Russia are the new shakers and players in the tourism phenomenon.
Burundi is still the most expensive tourism destination in the East African Community (EAC) charging $90 dollars for 30 day visa as compared to its neighbours such as Kenya, Rwanda and Uganda who are charging $100 for a multi-destination visa.
Burundi's integration in the EAC has economic benefits if we can position ourselves as a desirable new destination and try to make a mark in the tourism industry. Our presence in the travel and tourism market is still insignificant; even though the potential is there, our brand and image are still fragile, and our tourism products need to be developed, there is work to be done, the sector is still fragile, hence we can't afford to be left behind.
Efforts to attract visitors should focus on how to facilitate our visa policies. We should be advocating for changes and emulate the open door policies, which have been successful in other emerging destinations. Free visas to tourists from source markets and reducing the cost of visas are a few tangibles examples of how to increase tourist numbers to Burundi.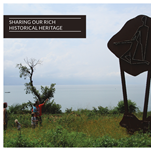 In 2013, Kenya, Rwanda and Uganda initiated a single tourism visa and, each of these countries has counted over one million visitors. The socio-economic impact is significant, and its our turn now to revise our current visa and immigration policies. Our potential source markets whether it is in tourism, leisure or business are vital, and providing differentiated treatment is one of the possible incentives for increased tourism. One of the solutions is the possibility of issuing visa on arrival.
Since 2010, Bujumbura International Airport has seen an increase in the frequency of airlines connecting Burundi to the rest of the world from less than 10 flights a week just a few years go to double that figure now. The approach of "visa on arrival" is more progressive. After all, we are known for our hospitality, so why prevent tourists from visiting us when the economic, social and cultural benefits speak for themselves?
Let's get connected to the rest of the world and break down the barriers so we can say to all who visit us: "Welcome to our Beautiful Burundi!"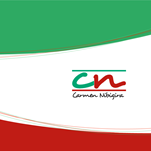 End quote
Carmen of course hit the nail on the head and it can only be hoped that the powers that be in Bujumbura listen to her wise words and council. For ITB 2015 it is clearly too late but there are other trade fairs coming up, overseas as well as in the region, and if the Visa policies are revised, next up on the big league will be the Karibu Tourism Trade Fair in Arusha in early June. If Burundi is serious about tourism, and wants to enjoy the economic benefits of job creation, DFI and Regional Direct Investment, foreign exchange earnings and more, there can only be one way forward. Watch this space which way Burundi will move from here on!