RWANDA CAPTURES RUNNER UP SPOT AS SECOND BEST EXHIBITOR AT INDABA 2015
(Posted 13th May 2015)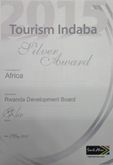 As the curtains came down on this year's edition of the annual South African tourism and travel showcase popularly known as INDABA, were the best exhibitors once again named and honoured in the traditional prize giving ceremony. The three Northern Corridor Integration Project countries namely Kenya which bagged 3rd place, Rwanda which came runner up in 2nd place and Uganda emerged as the top 3 for stand display. The countries were represented by the Rwanda Development Board, the Kenya Tourism Board and the Uganda Tourism Board respectively.
Rwanda's High Commissioner to South Africa His Excellency Vincent Karega explained that the ranking was based on how helpful the exhibitors were with visitors at the stand, display of materials, level of tour operators' engagement with clients, amount of green displayed at the stand including live plants and tidiness throughout the duration of the tourism trade fair up to the end of the show.
'We are delighted to have been ranked 2nd at this year's Indaba Fair. This further shows the tourist and travel industry confidence in Rwanda as an attractive destination' he noted.
The High Commissioner then added that the three East African states of Rwanda, Kenya and Uganda were actively marketing the region as a single destination under the Northern Corridor initiative: 'We would like to reassure tourists that the region is safe for travel, has good infrastructure including modern information and communications technology and has an attractive and diverse tourism offering that one can access with just a single visa'.
The Indaba participation comes close on the heels of the recent tripartite meeting held in Kigali where the three countries pledged to continue building confidence in the region's tourism attractiveness and work hand in hand to map out common marketing strategies and identify events like INDABA to exhibit together as a region.
RwandAir flies daily from Kigali to Johannesburg from where travellers then connected with airlines of their choice on to Durban where INDABA is hosted as an annual event. Previously only open for SADC countries has participation been thrown wide open some years ago and attendance has since then grown in leaps and bounds, this year for the first time ever exceeding 14.000 trade visitors and exhibitor staff.