HANDS ON TRAINING AND TIPS HOW TO BECOME MORE VISIBLE IN THE MARKET PLACE AT THE CENTRE OF CHARLOTTE BEAUVOISIN'S WORKSHOP
(Posted 08th December 2018)
On Thursday 13th December, Charlotte Beauvoisin, author of Diary of a Muzungu, will be holding a half day 'Introduction to Digital Marketing Training for Tourism' workshop at the new Athena Hotel in Bugolobi, Kampala.
The morning training offers the chance to learn some of Charlotte's online marketing tips, developed and practised promoting Diary of a Muzungu, Uganda's best-known consumer travel blog (and well-recognised across East Africa).
The training session is also an opportunity to learn about the Travel Directory that she has launched on the new-look Diary of a Muzungu. Here advertisers are invited to create their own pages on her site under the categories of airlines, accommodation (budget and campsites, hotels and lodges), things to do (tourism activities), conservation and vehicle hire.
Charlotte told ATC News: 'I am particularly interested in giving a platform to small lodges and community projects who don't have an online presence yet. I believe that the combination of affordable online advertising and regional workshops will boost their ability to promote themselves online to local and global audiences. Many of these companies don't have a website or the skills to manage a Facebook page or TripAdvisor account. My aim is to give them an affordable, well optimised 'micro-site' on Diary of a Muzungu, supported by relevant training. In 2019, I will be rolling out a programme of regional marketing training workshops (in addition to bespoke corporate and one-to-one training services) and welcome people to register their interest."
The Kampala training event costs 75.000 Uganda Shillings per person which must be paid in advance.
A bonus session for next week's attendees will be the presentation by Dr. Celestine Katongole entitled "Emerging trends and new product opportunities for the Ugandan tourism private sector." Dr Katongole is a tourism lecturer at Makerere University Business School and creator of the award-winning Entanda Cultural and Hunting Experience and owner of the tour company Sights and Sounds Africa.
Dr Katongole said: "Feedback from international tourists is that tour operators are not offering visitors exactly what they want. I will present possible innovations, in terms of new products, that can be added to existing itineraries, thereby enabling tour operators to enrich their packages with new experiences for their clients. As for lodges and hotels, I will discuss service expectations and how lodges can differentiate each other in the eyes of the visitor. I will suggest add-ons that lodges can consider applying to make their places (even more) attractive."
In 2017 Dr. Katongole and Charlotte were two of the trainers on the Uganda Tourism Association (Trademark East Africa-funded) training of 360 tour operators and tourism professionals.
Charlotte's first solo training workshop took place recently in Fort Portal. Attendees included Kyaninga Lodge, Ruwenzori View Guesthouse, Kalya Courts Hotel, Isunga Lodge, Tooro Botanical Gardens, Fort Portal Tour Guides Association, Sunbird Hill, Rweteera Safari Park, Amabere Caves, KAFRED Bigodi, Sunbird Hill Kibale Forest-edge and the Rwenzori Tourism Academy.
Charlotte is a Chartered Institute of Marketing graduate by trade and has worked on promotions with companies that include Serena Hotels in Tanzania; Volcanoes Safaris and Red Rocks in Rwanda; Nyali Sun Africa Beach Hotel & Spa and Jambojet in Kenya; Wild Frontiers and Gorilla Highlands in Uganda. She has written for many publications across the region.
You can contact Charlotte via her blog or Facebook page or call her on +256 758 802319 to book your space for the upcoming workshop next week in Kampala.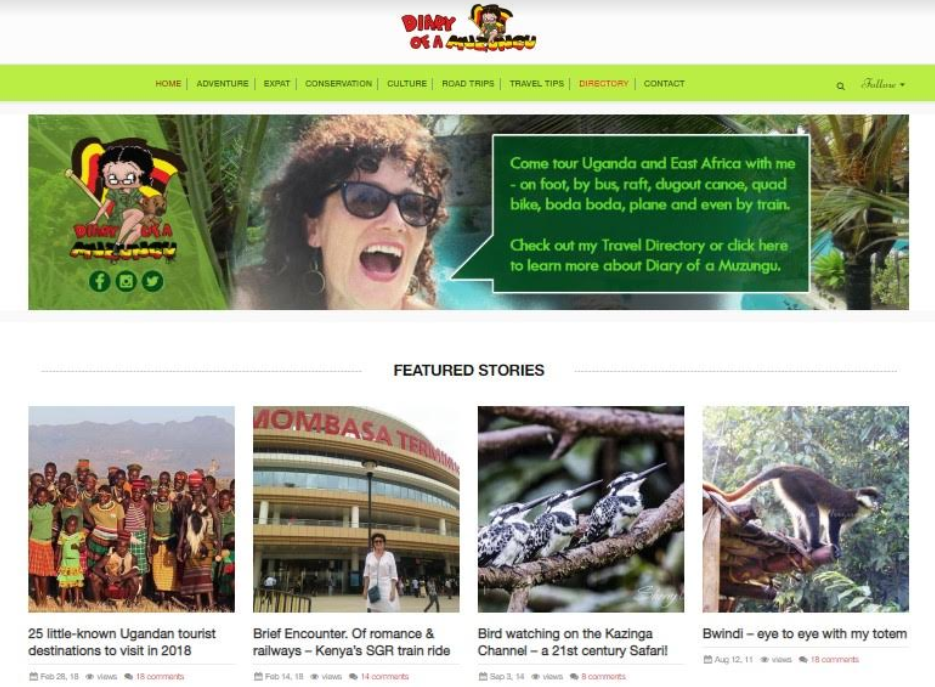 Charlotte has also given her award winning travel blog a workover to make it even more user friendly and add more functions including, as mentioned above, the opportunity to advertise.