ESTABLISH A TOURISM COORDINATION PLATFORM EATP CHAIR URGES EAC LEADERS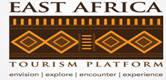 The East Africa Tourism Platform, in short known as EATP, supported by TradeMark East Africa launched in its final county in the East African Community at a cocktail held last night at the Hotel Africana in Kampala, Uganda.
The EATPs founding Chairman, Richard Rugimbana noted that though tourism was directly responsible for 5% of global GDP and ranked 4th in the export category after fuels, chemicals and automotive, the sector remained largely underestimated by policy-makers. To raise the sectors profile in the regions integration agenda, the private sector has set up a body to engage the public sector so as to reduce obstacles to intra and inter-regional tourism.
The EATP Coordinator, Miss Waturi Matu, noted that the partner states needed to work together to create an enabling environment and highlighted priority issues that needed immediate attention such as the fast tracking and implementation of a Single EAC Tourist Visa.
Waturi noted with concern, as did a number of private sector stakeholders present during discussions with this correspondent, that free movement of tourist services vehicles and personnel remained an issue and called for urgent resolve as it was holding back promotion of multi country packages. The Platforms Steering Committee members present in Kampala equally requested the partner states to harmonise aviation taxes and fees and open their skies for cross EAC flights, which would significantly bring down the cost of air travel and boast regional tourism.
The Chief Guest at the Launch, Ugandas Minister of Tourism, Wildlife & Antiquities Maria Mutagamba, in her keynote speech called for the establishment of an East African Tourism and Wildlife Agency that would coordinate tourism activities in the region and pledged Ugandas support to the objectives of EATP.
The next EAC Sectoral council on Tourism and Wildlife Management meeting is scheduled to take place in October and it is hoped that the private sector concerns will be addressed and resolved as a matter of urgency.
The Ugandan who is who in tourism was present at the function, in large numbers for that matter following the earlier Uganda Tourism Sector Review also held at the Hotel Africana, making an impressive audience. The hotel however let everyone down by NOT providing a public address system duly ordered of course by the organizers and putting the function at the terrace overlooking the pool area with the floodlights out of service. Besides suffering from the loud music at the pool side the lack of light left much of the evening in the proverbial darkness before frantic staffers eventually opened up a smaller side area where the speeches could be delivered, lights working and speakers visible to the guests. Welcome to the Pearl of Africa to EATP it finally is, now lets get down to work and make tourism the regional priority sector is in fact is but has never been recognized as such by the powers that be.