EMIRATES ANNOUNCES UPCOMING LAUNCH OF BARCELONA AND LISBON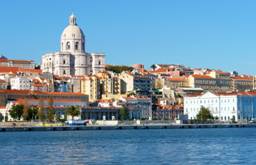 (A view of Lisbon from the Atlantic ocean, courtesy of Emirates via HK Strategies)
The country manager of Emirates in Uganda, Khalid Al Zarouni, earlier in the week announced that the daily nonstop flights between Entebbe and Dubai will from 03rd July offer a new European onward connection to Spains second city of Barcelona, with the Portuguese capital Lisbon following on the 09th of July.
Both destinations will be served daily out of Dubai and connections for passengers from Entebbe, as well as from Nairobi and Dar es Salaam, are scheduled to leave Dubai at 09.15 am.
Khalid said in a media statement made available overnight: Lisbon has been on our European wish-list for some time. Our daily flight will link Uganda with this far western corner of Europe and our strong European route network, which is a vital trading partner with Uganda. Being the only Middle East carrier operating into Portugal will give Ugandans planning to travel to Portugal for business or leisure, a unique advantage to explore new opportunities. Lisbon was recently ranked the 7th best city in Europe for shopping by the Globe Shopper City Index of The Economist Intelligence Unit. In all these countries that constitute European Union, market indices present a positive growth trend reflecting favorable market opportunities for fresh fruit and fish products. Connectivity is essential for business and for tourism and this new flight and the onward connections that it will provide will be very beneficial for the Ugandan economy.
The B777-200LR which will be deployed on the route to Lisbon offers a cargo uplift capacity of up to 17 tons and is configured with First, Business and Economy class cabins.
Added a regular source from the airlines Kampala office: Our biggest advantage remains that we operate only wide body aircraft on all our routes. This gives passengers a superior inflight experience with more space in particular in our First and Business Class cabins and even our economy class travelers have plenty of space, individual seat back screens and all our passengers can take advantage of special offers for Dubai stopovers. And since March we now fly nonstop to Dubai which remains one of the worlds best transit airports. The new destinations in Europe and to other parts of the word make us the number one international airline.
Watch this space for regular aviation news, covering Eastern Africa and the Indian Ocean islands.