EMIRATES CONTINUES MARKET OFFENSIVE WITH ENHANCED INFLIGHT ENTERTAINMENT


Dubais award winning national airline Emirates continues to work the market in East Africa hard, in the face of increased competition by Gulf rivals Qatar Airways, soon to launch their 5th East African destination, and Etihad, coming to Nairobi more recently as their first East African destination, but also from the traditional European heavyweights, all of which have taken extra efforts to lure passengers during the busy summer season on to their flights with generous baggage allowance offers and attractive fares.
The recently launched Hello Tomorrow campaign has hit the market running and has received much attention in the Kenyan, Tanzanian and Ugandan market places, where Emirates presently flies to daily.
The latest emphasis by the airline is to highlight their new enhanced inflight entertainment product ice short for Information, Communications and Entertainment, using larger state of the art touch screens available in all three classes on the B777 fleet and shortly also on the A380 fleet.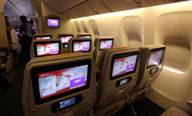 (Picture courtesy of HK Strategies / Emirates)
According to information availed overnight to this correspondent, passengers will now be able to enjoy Emirates award-winning entertainment with wider personal TV screens: 27-inch in First Class, 20-inch in Business Class and 12.1 inch in Economy Class-an increase from the 10.9 inch screen-making the latter the biggest in the world. Additionally, Emirates new screens feature high definition (HD) resolution, making it one of the worlds first commercial airlines to install such state-of-the-art technology. With the new cutting-edge HD-enabled screens, Emirates passengers will now enjoy video content in bright, vivid colour and ultra-sharp detail.
Emirates goal is to ensure maximum comfort and choice for passengers during their in-flight entertainment, communications and inflight experience said Essa Sulaiman Ahmad, Emirates Regional Manager for East Africa in his communication before adding: In this, like other areas of its operation, Emirates seeks to lead the industry, enabling our customers to get the very most out of their Emirates journey.
Emirates has over the years bagged more than 500 international awards, including for best inflight entertainment, and operates an all wide body fleet of more than 170 aircraft with a further 230 on order for delivery over the next years. The airline presently flies to 123 destinations, more like Barcelona following soon, in 73 countries, connecting the world via Dubai like few others. Notably, Emirates operates both Boeing and Airbus aircraft and is the largest operator in the world of the giant A380. Visit www.emirates.com for more information on schedules, fares and specials from an airport near you.