KENYAN TRAVELERS GET SPECIAL VISA DEAL FROM EMIRATES


Dubais award winning national airline, Emirates, leaves apparently no stone unturned when it comes to capturing more traffic and travelers from Kenya will be given a special deal for Visa in coming weeks.
The airline is arranging for a 30 day free Visa for passengers in all classes or on any fares, for tickets booked between August 13 and 20 and for travel anytime between September 05 and October 04, from Nairobi to Dubai and back, NOT for transit passengers though it was pointed out.
Given for free over this period, and literally granted unless previous infringements would in a rare case prevent an application to be rejected, the offer will undoubtedly draw in the extra numbers of Kenyans wishing to visit the city that never sleeps and which has become the home of some of the worlds greatest tourist attractions, such as the Burj Khalifa, around which an entirely new part of Dubai has grown in recent years.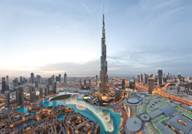 (Picture courtesy of HK Strategies Nairobi on behalf of Emirates)
A similar deal is also being extended to passengers from Tanzania, though it could not be confirmed immediately that Ugandans too would be able to take advantage of this very special deal. Watch this space for regular aviation news from the Eastern African region.