EMIRATES TURNS TO JANUARY DUBAI SHOPPING FESTIVAL PROMOTIONS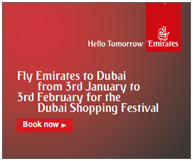 While reiterating Emirates' latest destination, the award winning national airline of Dubai is now flying 5 times a week to Lyon in France, a regular source at the Emirates office in Kampala has moved the focus beyond the Christmas and New Year holidays to the annual Dubai Shopping Festival, which is kicking off on January 03rd.
'This is one of the year's big events in Dubai. All the big malls and shopping centres are participating. Hotels are giving special deals also for travelers. When you book a trip with Emirates they can arrange for Visa and hotel all in one package deal from one source. This is the time of year you get the best deals in shops for everything.
From electronics to clothes or appliances, visitors can expect big price reductions and also special deals for the attractions. Entry fees will be reduced in many places and some of the Emirates packages include such offers. Dubai is waiting for visitors and even the weather is cooler than normal, so this is as good as it gets' said the source in a conversation while also emphasizing the use of a wide body aircraft for their daily flights between Entebbe and Dubai. 'Lyon will be 5 times a week with an A340 aircraft. Emirates only uses wide body aircraft so comfort from Entebbe to the final destination is guaranteed. And next year will be very exciting also because we are getting a lot more A380 and the airline is expanding the use of this aircraft to a lot of new places. And our frequent flyer members can always be sure of that extra attention'.
While for now all eyes are surely on the forthcoming Christmas and New Year vacations, there is clearly not time like the present to promote events in the 2013 already now, and it is to be seen what reaction this latest pre Christmas sales blitz by Emirate in Uganda and the other East African countries will prompt the competition to take, once again left trailing in the wake it seems. Hello Tomorrow – here is surely a practical application of that slogan.