WHERE THE CONGO NILE TRAIL CROSSES PATHS WITH LOCAL CHARITY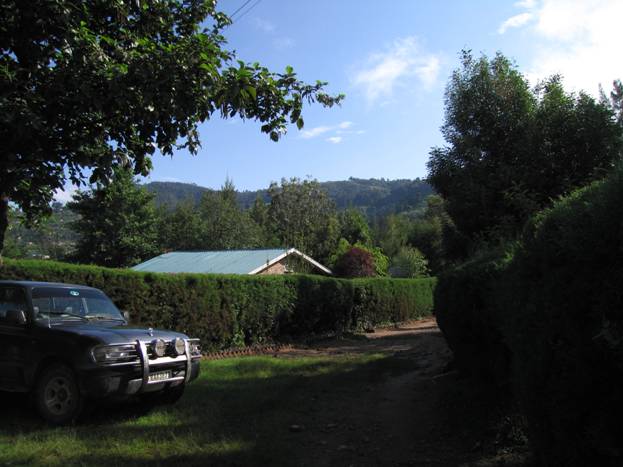 (The Bumba Base Camp, operated by Father Patrick)
A few weeks ago, while traversing sections of the Congo Nile Trail, the effects tourists can have on local needs became quite apparent. First, the visit to the L Esperance orphanage, one of the 8 base camps of the trail, about which I have already written a separate article and hope that it generated interest and support for this unique concept of making an orphanage totally self sufficient.
And then, the next day, I was confronted at one of the trails base camps, Bumba to be precise, with the way initiative turns to self help, albeit still of course in need of well wishers and donations. Father Patrick, incidentally a fellow Ugandan, came to Rwanda not long after the 1994 genocide, when entire sections of the Catholic clergy had either been murdered or gone rogue and supported the murdering, to allow the institution of the church a new start. Father Patrick wasted no time to get stuck in what was then and continues to be a problem people in rural Rwanda face living with disabilities, caused by disease or else caused back then by having lost limbs, making a productive life of farming almost impossible to achieve.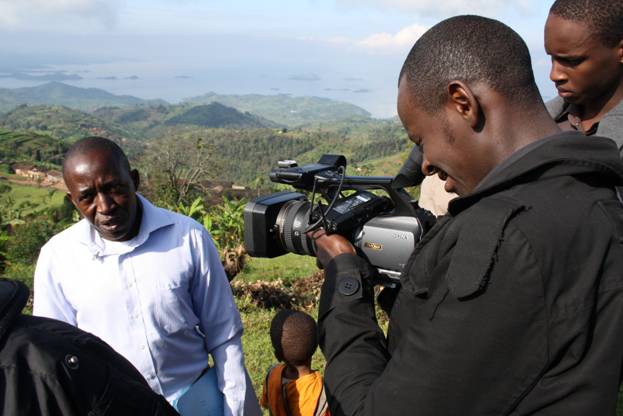 (Father Patrick being interviewed during our visit by the Rwandan media with Lake Kivu in the background)
At the Bumba Base Camp, not far from the high elevation view point from where the continental water divide between the Nile basin and the Congo basin can be seen in all its majesty good weather permitting that is as during my visit it was truly raining the proverbial cats and dogs has Father Patrick created a training facility for people living with disabilities and it is there, that they are taught how to use sewing machines to make new clothes, do repairs on old clothes and fabrics and finally be able to make a decent living with dignity.
Hundreds have gone through Father Patricks hands and dozens more are in training or have applied for places at Bumba.
The launch of the Congo Nile Trail though also adds another dimension to Father Patricks efforts to support his community outreach programmes. Now he can receive paying guests, accommodate them in simple but adequate accommodation and offer them meals and drinks. Guests stay overnight, hike to the view point and back and are fed homemade meals from homegrown ingredients, matooke, beans, carrots, cabbage, potatoes and more. Almost a home stay, guests at Bumba become friends, and many have made extraordinary efforts to raise support and funding for Father Patricks initiative upon their return home.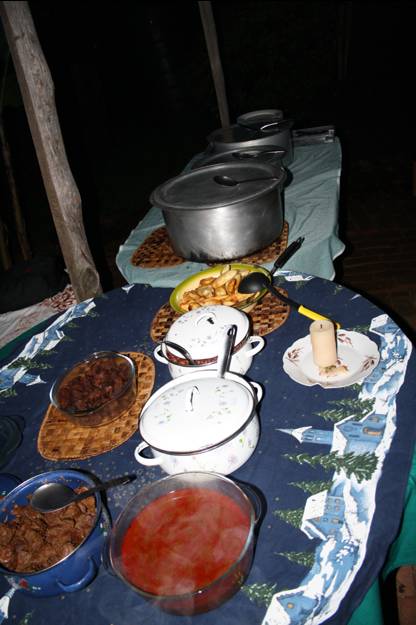 (A wholesome meal not seeking to win culinary awards but to fill an empty stomach and provide lasting sustenance)
When the kitchen staff peel the matooke and potatoes and cut the vegetables to size, they sing and hum, showing that an indomitable spirit exists, which is, as I saw it, not just Catholic but deeply spiritual in nature and crossing the religious divides, but also the erstwhile tribal divides which led to the 1994 genocide in the first place.
Every single one has a smile on their faces, knowing what they do is important, for the guests who stay and for themselves being able to become productive members of society.
And so tourism, that great equalizer when in fact on a trail like the Congo Nile, brings different people, from different backgrounds and nations and social standing together, all hiking the same roads and tracks and many of them staying at Bumba for a night. Here, under the guidance of Father Patrick, is a new cottage being built, which when ready will provide another three self contained rooms, sleeping up to 6 people in comfort, while shared accommodation and dormitory style accommodation is also available for those on the tiniest of budgets. The Bumba Base Camp is a key to explore the hills above the Lake Kivu shores near Kibuye and will undoubtedly be in greater demand yet when the new building is ready and can provide comfortable living arrangements for the guests. Father Patrick and his staff are also keen to show visitors around, explain their projects aims and objectives to them and of course interaction with the trainees is not just possible but welcome, to forge lasting friendships and for years to come stay in touch the wonderful people found deep in rural Rwanda, until perhaps returning once again to explore even more of the hidden treasures of the Congo Nile Trail.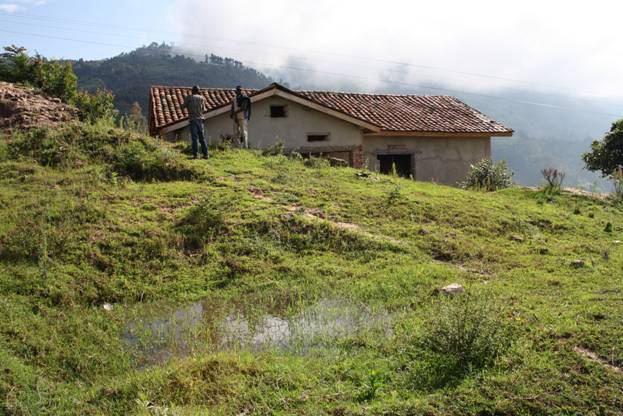 (The new 3 bedroom cottage being built at Bumba Base Camp)
The Bumba Base Camp is one of presently 8 in operation, spread over the 227 km long trail, which spans the entire distance between Kamembe / Cyanugu and Gisenyi, offering some of the most scenic sights, from the lake shores but also from the high hills above the lake, while traversing the forests, tea and coffee plantations along the trail or else do the loops into Nyungwe Forest National Park or into the Gishwati Forest Reserve.
The trail can be conquered in 10 days of hiking, up to 6 days of biking or in 4 days by either boat or four wheel drive vehicles, or alternating between all these sources of transport. What is important that all hikers pass at Bumba, see the continental water divide and have the opportunity to meet people like Father Patrick, spiritual carer but also entrepreneur with a keen eye to create sustainable income to keep his dreams alive and the flame of compassion burning. Write to him via batepatric@yahoo.fr  for more information about the Bumba Base Camp, the work he is doing there and how best to support the outreach mission station.