ETHIOPIAN AIRLINES MAKES MAIDEN APPEARANCE IN SEYCHELLES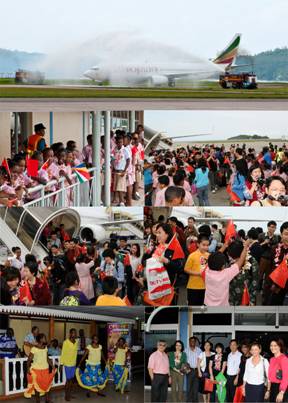 (Pictures courtesy of Seychelles Tourism Board)
While still several weeks away from commencing scheduled operations between Addis Ababa and Mahe, has the Ethiopian national airline nevertheless made the maiden flight yesterday, 22nd January with a full plane load of Chinese travelers who had booked a holiday of a life time on the archipelago and came from China on one of ETs scheduled flights to Addis.
The group will be picked up again on the 29th January after spending a week on the islands, using the new Kempinski Seychelles Resort, the Le Meridien Fishermens Cove and the Berjaya Beau Vallon Bay Resort.
The maiden flight was greeted by the traditional aviation welcome, an arc of water from two fire engines sprayed over the taxiing plane, and after coming to a stop 100 Seychellois children, waving the Chinese and Seychellois flags, greeted the visitors with songs and cheers.
The trip was organized by China Travel Services, whose management was on board of the flight too and 7 Degrees South, one of Mahes leading DMCs was handling the transfers and tour arrangements on the island.
A large government and diplomatic delegations was at hand at the airport to greet the first ever charter of Chinese travelers, with the Chinese Ambassador being flanked by Mr. Barry Faure, Chairman of the Seychelles Tourism Board and Secretary of State in the Presidents Office, while Deputy CEO Elsia Grandcourt represented STB, explaining that China was in 2011 the best performing market with a 97 percent growth rate and heading for yet further growth in 2012.
Seychelles, truly Another World.