ETHIOPIAN AIRLINES SWITCHES TO DREAMLINER ON FRANKFURT ROUTE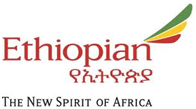 Information from Addis Ababa was confirming pending aviation grapevine talk, that Ethiopian Airlines has deployed a brand new B787 Dreamliner on the route to Frankfurt since the end of October already. Ethiopian operates six flights a week between Addis and Frankfurt in addition to the 6 codeshared flights by Star Alliance partner Lufthansa, making it a key destination through which Star Alliance partners from around the world are feeding their Africa traffic via Addis to the rest of the continent with seamless connections.
With Lufthansa still using an ageing Airbus A340-300 for these flights and stopping over in Khartoum, Ethiopian will be able to offer their clients the most modern passenger aircraft presently in the skies, and their evening departure from Frankfurt, arriving in Addis the following morning after a nonstop flight, makes for convenient onward connections across not just Eastern Africa but the entire continent.
Only recently did Ethiopian put pen to paper to add three more B787 to the fleet through a lease arrangements, over and above the 10 aircraft on firm order. ET was Africa's first airline to take delivery of the Dreamliner, serving notice to continental and international competitors of intent to remain Africa's leading airline. Watch this space.