#CHADIANAIRWAYS TO TAKE TO THE SKIES BY OCTOBER

(Posted 24th August 2018)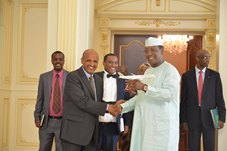 Ethiopian Airlines, the largest aviation group in Africa and SKYTRAX certified Four Star Global Airline, earlier today announced that it has finalized agreements with the Government of Chad for the launch of Chad's new national carrier. Ethiopian will hold a 49 percent stake in the joint venture while the Government of Chad retains 51 percent. Management will be vested in Ethiopian Airlines.
The new Chad national airline is planned to go into operation as of October 1, 2018.
Mr. Tewolde GebreMariam, Group CEO of Ethiopian Airlines remarked: "The strategic equity partnership in the launching of the new Chad national carrier is part of our Vision 2025 multiple hub strategy in Africa. The new Chad national carrier will serve as a strong hub in Central Africa availing domestic, regional and eventually international air connectivity to the major destinations in the Middle East, Europe and Asia. I wish to thank His Excellency President Idriss Deby Itno, the Government of Chad and the stakeholders in the aviation sector in Chad for their strong support to the project."
Through its multiple hubs strategy in Africa, Ethiopian currently operates hubs in Lomé (Togo) with ASKY Airlines and Malawian in Lilongwe (Malawi), while also having acquired stakes in Zambia's and Guinea's national carriers. Ethiopian Airlines ia also making preparations to launch Ethiopian Mozambique Airlines.