FAST JET REACHES PRELIMINARY DEAL TO BUY SOUTH AFRICA'S 1TIME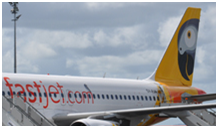 As suggested here some weeks ago, at the time strenuously denied – what else – have news broken in South Africa that the owners of FastJet have reached a preliminary agreement with the owners of 1Time, a South African LCC which recently halted operations and started winding up proceedings, to acquire the airline, subject to regulatory and shareholder approvals.
Should FastJet get approvals from South Africa's Civil Aviation body, they would acquire route rights covering at least 5 domestic destinations plus a number of near regional destinations in neighbouring countries. 1Time in fact only halted flights to Mombasa, from Johannesburg, in September this year as a result of weakening demand and risen cost in Kenya, before then going into a financial spin resulting in a halt of all operations by mid November.
The same source giving the initial tip off suggested that flight operations, once all required approvals have been secured, would only be able early in the new year and that very likely FastJet would initially use some of the 1Time MD aircraft to resume flights, for the time being at least, considering the available type rating of crews and logistical infrastructure not being ready for the immediate introduction of Airbus aircraft.
Watch this space for breaking and regular aviation news from the Eastern African region and beyond.