FASTJET AND LAM SIGN MAJOR COOPERATION DEAL

(Posted 20th March 2018)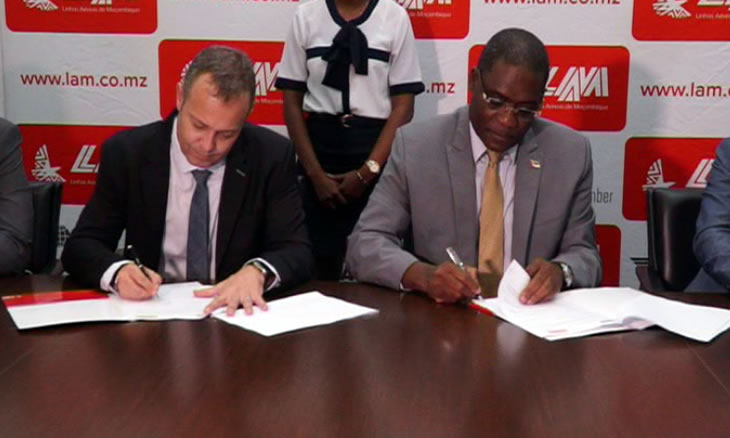 (Picture, courtesy of Fastjet, shows the two CEO's signing the MoU earlier today)
Mozambique's national airline LAM and Fastjet today entered into a Memorandum of Understanding to explore long-term commercial cooperation. The Memorandum was signed at the LAM head offices in Maputo. The intent of the memorandum includes wide-ranging areas of cooperation expected to significantly enhance commercial aviation in the country.
The memorandum covers code-share and interline agreements between the two carriers, optimized network synergies to accommodate same as well as cooperation on other commercial systems, cargo, engineering and maintenance. LAM's Chief Executive Mr. Antonio Pinto commented that the "areas of cooperation will not only further strengthen Mozambique's flag carrier as a regional air-services provider but contribute significantly to initiatives that promote tourism, economic development and trade."
"This is an exciting and industry-leading public-private partnership initiative," added Mr. Pinto. "It not only supports Mozambique's greater economic growth objectives in terms of the efficient and affordable movement of people and goods, but also the notion of a longer-term Whole of State Aviation strategy." Mozambique is a signatory to the Yamoussoukro Decision and one of the early nation-adopters on the Continent.
"The approach to commercial cooperation is the first of its kind on the African continent," responded Fastjet Chief Executive Nico Bezuidenhout. "There is significant opportunity in stimulating not only commercial aviation but also up and downstream economic growth through key cooperative initiatives. Fastjet is committed to exploring and leveraging the agreement to the best-benefit of both companies and, ultimately the people of Mozambique."
The African Development Bank recently reported on a high medium-term growth forecast for Mozambique.
This MoU intends to lay the foundation for full economic leverage of the Government of Mozambique's state aviation objectives.
Observers have expressed their hope that when the MoU is made operational more visitors will be able to access more of Mozambique's regions and resorts beyond the city of Maputo, where notable Serena Hotels owns and operates the 'Grand ol Dame' of hospitality in the country, the Polana Hotel.