MAKE OR BREAK AUDIT TO GIVE GREEN LIGHT – OR NOT – FOR NEW YORK FLIGHTS

(Posted 25th April 2018)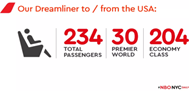 Kenya Airways is now just two steps away from launching their planned daily services to New York's John F. Kennedy Airport, one hurdle in their own hands to master and one beyond their control as Jomo Kenyatta International Airport and owners / operators Kenya Airport Authority are coming under scrutiny.
Kenya Airways' last remaining task is almost a shoe in as the airline was already granted exemption authority by US regulators and now only needs their Foreign Air Operators Certificate to be formally issued.
More challenging will be KAA's audit which has been set for late May when the facility will undergo inspection by a team of US Transportation Security Administration officials. They will keenly eye areas which have in the past caused Kenya given the thumbs down and it remains to be seen if JKIA will pass the threshold set to be given final clearance as a last point of departure for direct and nonstop flights to the United States.
With the US having become Kenya's number one source market for tourists will the daily Boeing B787-8 service add some 85.000+ seats into the market, cutting the journey time by at least 7 hours if not more, depending on what European, Gulf or other African waypoint travelers so far use to connect to Nairobi.
As the entire Eastern African region is set to hugely benefit from Kenya Airways' planned US flights – much of the international traffic into other Eastern African airports like Entebbe, Kigali, Bujumbura, Dar es Salaam, Kilimanjaro and Zanzibar routes via Nairobi – will all eyes from the region be on both airline and airport authority to see them succeed and make travel to and from the United States substantially shorter.