LACK OF SALARIES BLAMED FOR RENEWED UNREST IN SOUTH SUDAN'S CAPITAL

(Posted 09th July 2016)

Both of South Sudan's political principals were caught at the Presidential Compound yesterday evening as renewed violence rocked the city of Juba. With them are reportedly a number of journalists who had come for a press conference and were trapped when fighting erupted outside. All of this is happening as the 5th Anniversary of South Sudan's Independence dawns in a few hours, a day which brought hope to the world's youngest country at the time. These hopes however brutally dashed when just days before Christmas in 2013 the two main political protagonists led their supporters into a bloody second civil war after Dr. Riek Machar's ethnic group was targeted for elimination by the regime leader.
Tanks rolled through the city of Juba yesterday once more as terrified residents attempted to make their way to the UN's secure area for protection.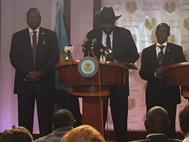 (Picture courtesy of Gadek C Reik, taken as gunfire began to erupt outside)
There appears, according to the few reports coming out from more regular sources in Juba, to be complete and utter chaos in the city and while at the moment the gunfire has died down can no one be certain that shooting will not resume at first light. Many business owners have stayed in their premises with their staff and even clients, after the fighting erupted, as it was no longer safe to return home and there are some, however unconfirmed reports, that some of the phone networks are also down, likely to be true as attempts to dial numbers of contacts terminated instantly.
Troops of both sides as well as other security organs like the police, have reportedly gone without salaries for months and promise after promise failed to materialise, very likely prompting the current situation as especially the two army factions intended to celebrate independence day, now unlikely due to lack of money in their pockets.
With fighting described as particularly intense around the international airport is it anyone's guess now if airlines from the region, especially from Nairobi and Entebbe, will in fact be operating flights in the morning – the airport is still not open for night flights – given the risk involved of being hit by small arms fire or worse as planes come in to land or try to take off again.
Passengers destined for Juba should as a matter of urgency contact their airlines to find out, before they leave for the airport, if their booked flights are operating, something which can only be assessed by airline security staff in Juba in the morning.